Dream Wife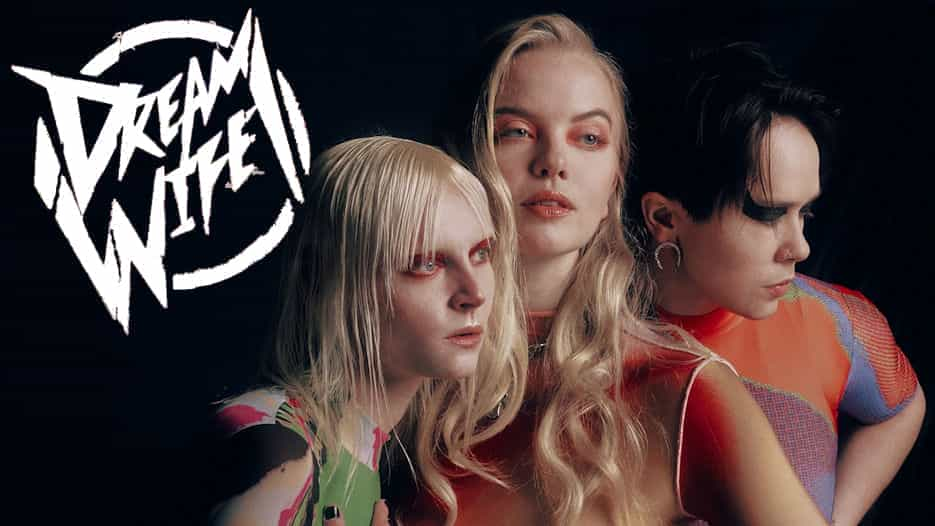 Since forming in 2015 as a college art school project, Dream Wife - a name chosen as commentary on society's objectification of women - have become one of the foremost up-and-coming bands out of the U.K. They have garnered praise for their early releases and their ferocious live shows, which saw them sell out venues across U.K. and Europe, tour the U.S. with the Kills, and play festival stages all over the world.
Dream Wife is more than just a band, Dream Wife is a way of life. You'll struggle to find a tighter knit trio than this trio of astrological fire signs. The band came together while they were studying at Brighton University in the U.K., with roommates Rakel – who was born in Iceland and raised in California – and Bella deciding they needed to enlist hotshot guitarist Alice while a few Jägerbombs deep on an indie disco dance-floor. Alice responded to the pair's Facebook message instantly and the dayglo world of Dream Wife was born. Initially formed as part of a performance art project, they quickly realized that their chemistry was too powerful for them just to be a one time thing. They took themselves out on the road under their own steam, touring Canada and Europe with only four songs and without a booking agent, promoter or a tour manager.
The band chose Dream Wife for its wordplay, not from the 1953 Hollywood rom-com which none of them had ever seen, and for its wry nod to their feminist politics. "It's a commentary on the objectification of women; the 1950s American Dream stereotype package. Having the dream house, the dream car and the dream wife," they explain. "We want to flip the script on that. Women aren't objects; we don't just fit into one mold. At the start, we joked around calling each other our wives, but by supporting one another, celebrating achievements together and finding strength in female solidarity we're reclaiming the concept of a 'wife'. Being in a band is a marriage in itself."
Dream Wife Tickets
London
London
Electric Brixton
Thu 19 Oct 2023
Other events you may like...
How to get to the Electric Brixton, London
Most Popular Shows and Events in London