Girl from the North Country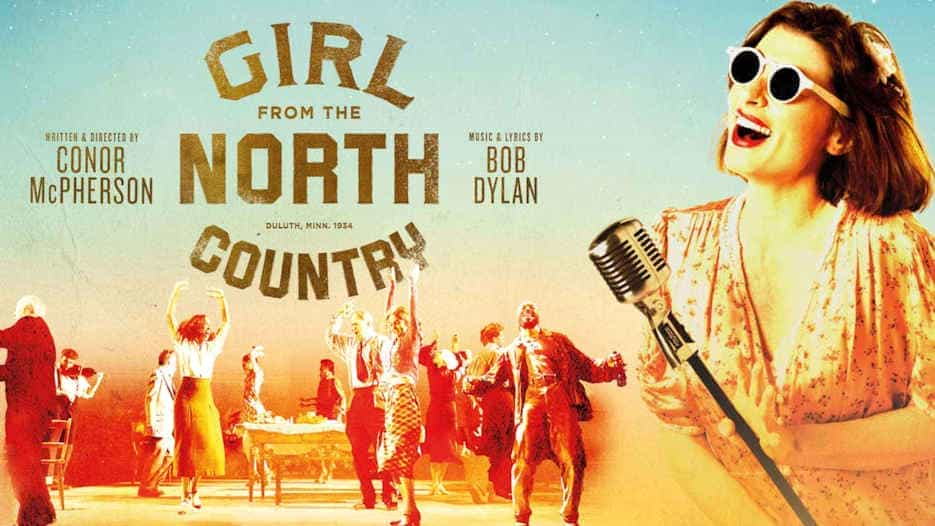 Celebrated playwright Conor McPherson (The Weir, The Seafarer) boldly reimagines the legendary songs of Bob Dylan, like you've never heard them before, in GIRL FROM THE NORTH COUNTRY. A heart-breaking and universal story about family and love, hailed by the Observer as the 'NO.1 THEATRE SHOW OF THE YEAR'.
It's 1934 in the heartland of America and we meet a group of wayward souls who cross paths in a time-weathered guesthouse. Standing at a turning point in their lives, they realize nothing is what it seems. But as they search for a future, and hide from the past, they find themselves facing unspoken truths about the present.
Now audiences have the chance to experience this 'magnificent' (Standard), 'astonishing' (Guardian) and 'piercingly beautiful' (Independent) production brought vividly to life by an extraordinary company of actors and musicians.
Girl from the North Country Tickets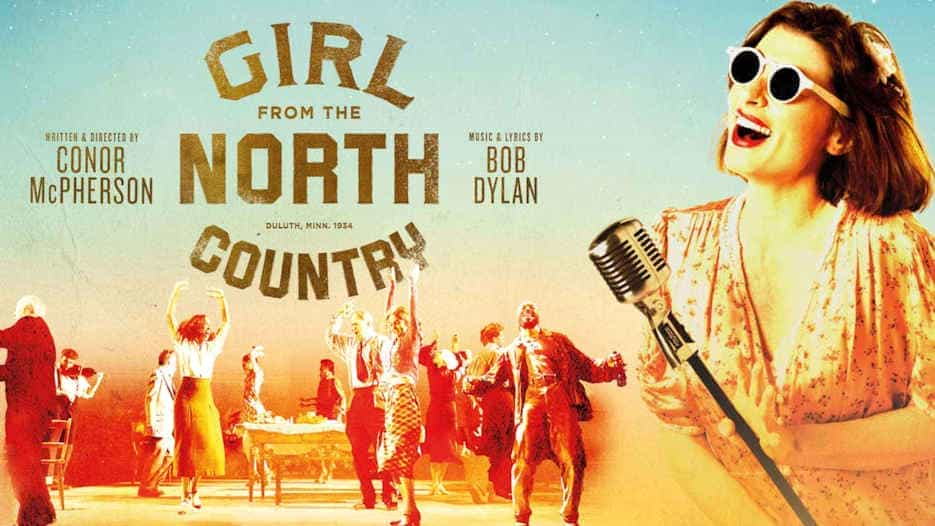 Sorry, there are no tickets for Girl from the North Country in London available at the moment. This maybe due to one of the following reasons:
- Girl from the North Country in London tickets are currently not on sale.
- The event has sold out.
- Details have not yet been announced for Girl from the North Country in London.
- The event may have been cancelled.
- The event has been and gone.
Join our free mailing list for
updates about this event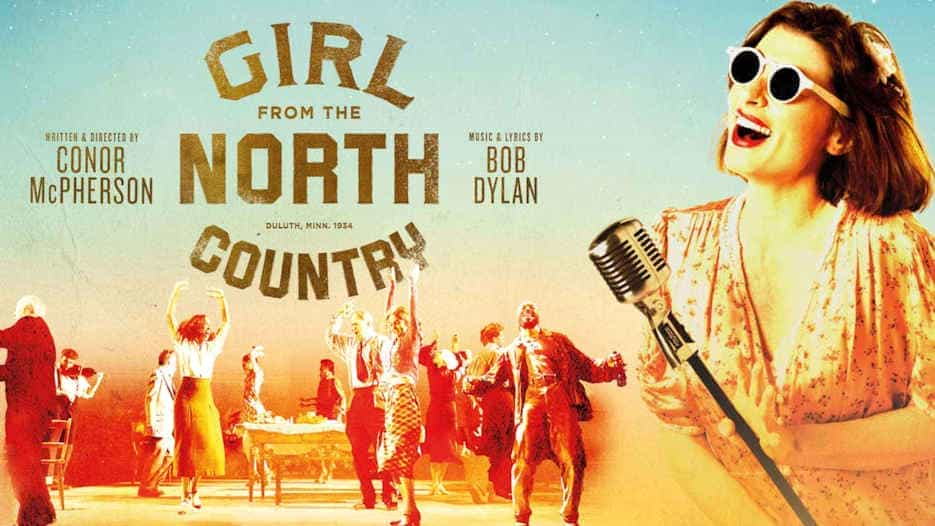 Girl from the North Country ON TOUR
Our review on Girl from the North Country
Girl From The North Country - The Lowry, Salford - Tuesday 20th September 2022 by Karen Ryder
Our Rating
From first seeing Girl From The North Country advertised at The Lowry pre covid, and hearing some its songs being given a musical make over on Magic At The Musicals, I have been anticipating the arrival of this show with a growing excitement for quite some time. A story written around the already emotive and storytelling music of Bob Dylan holds a kind of promise to do it justice, for Dylan's music as we know was always written with far more than a catchy tune in mind. Political, thought provoking, philosophical, and continually trying to establish social change, these songs have stood the test of time, with modern power houses like Adele covering them, so even if you think you're not aux fait with Bob Dylan's music, you will know and enjoy it more than you realise for it has been threaded through our culture and has been blowing through our subconscious minds, just like the answers have been blowing in the wind.
Set in 1934 Minnesota America, during their Great Depression, Girl From The North Country takes a powerful and poignant look at love, life and family. Nick Laine runs a guesthouse on the edge of Lake Superior which has seen better days, much like its current guests have, all of whom seem to be drawn to the comfort of shared living with other tortured souls. Nicks own family are too struggling, with his wife Elizabeth living with an illness of the mind, son Gene in the grips of addiction and heartbreak, and adoptive daughter Marianne pregnant and unmarried (more of a big deal then than it is now). His once grand guest house is on the verge of collapse and foreclosure, with the suffocation of the bank always hanging over him. Nick tries to find solace himself by becoming entangled in a love affair with the recently widowed guest Mrs. Neilson, but far from helping his addled mind, complicates things further. The Burke family are equally trapped in their own turmoil, losing their business in the financial crash and trying to adjust to their new living arrangements, whilst the arrival of Joe, a boxer come convict freshly released from prison, and Marlowe, a preacher come crook, throw the guest house dynamics, lives and futures into a fresh kind of hurricane, ensuring Dylan's own words were never truer – The Times, They Are A-Changin'.

The show opens with instruments placed sparsely across the stage, an actor comes out, takes a microphone and a song rings out. Other cast members emerge onto the stage and through the audience, wrapping us in the centre of their glorious harmonies as the band join in. It is a magnificent opening. The story begins to unfold immediately, and it becomes clear that Conor McPherson is an exceptional playwright, captivating us with the array of intriguing, brutal and dark backgrounds of the characters. There is always a hint of more to come, something being held back and as the play continues, these elements hit with perfect timing, creating ripples of shock throughout the theatre yet delighting us in the reveal at the same time. There are live musicians onstage throughout, forming an incredible band rather than a full-blown orchestra, giving a more intimate feel to the whole thing. The actors are multi-talented and share their skills in the piano, drums and harmonica. It seems everyone does everything in this cast and it really does provide you with a unique sense of intimacy and unity. There is superb and humourous attention to detail via the use of props where a mattress is thrown onto the floor as a guest bed for the night and a wave of dust bellows out of it before Joe is asked to pay up for the privilege. Despite the emotional stories of the characters, there is clever and dry humour throughout, with corkers in the middle of an argument such as "Don't ambush me with my own double standards," and Elizabeth telling the Reverend during his preaching to f@&* off! On that note, Girl From The North Country does have its fair share of swearing in it, so bear that in mind when booking as it may not be for the ears of younger audience members.
The set is simple in design, which only adds to its ability to create a wraparound feel, that the audience are just as much a part of the guest house as the characters are. This is embodied further by the use of lighting, which is something I have never seen before. The audience were bathed in the same light as the stage. If it went dark on stage, it went dark in the audience, if lights were brought up on stage, so too were they brought up in the audience. I have to say I was fascinated by this feature and it created a vibe that I have never experienced. The whole thing felt comfortable somehow, which sounds weird considering some of the heart-breaking stories, but it did. I felt welcomed into the guest house.
This is a different kind of musical, as it is not led by song, but guided by it. Most musicals use their songs to tell part of the story and so would be lost without them. Girl From The North Country uses song in a very different way. Firstly, they are often sung through a stand alone microphone that has been brought on, so the singer become an observer, narrators, or storytellers as the ensemble continue to act out the narrative, rather than always singing about themselves as is usually the case. The songs set a tone, a vibe, an essence, rather than being literal, and they are not always sung in full, but snippets of Dylan's works are blended to exemplary use. This again is a new way of working, ensuring that this is definitely not a juke box musical, and it took me a while to get used to it, but once I had, I cannot say how much it impressed me. The interesting thing is that this show works so well yet could equally be split into two shows – the play and a concert, and both would work perfectly well independently. Dylan's songs have been given a new flavour and I have to say were performed to perfection by this outstanding cast. My favourite moments were the ensemble numbers such as Like A Rolling Stone, Hurricane, and Forever Young because this cast singing together was like a hug I didn't know I needed. It was glorious. They were glorious.
Colin Connor (War Horse, Our Country's Good, To Kill A Mocking Bird) played the overwhelmed Nick Laine. Torn between love, duty, heart and head, Connor portrayed his internal conflicts beautifully, so the audience could feel both anger and sympathy towards him. It takes a skilled actor to portray a man having an affair right under his wife's nose and still be likeable. Frances McNamee (A Lady Of Little Sense, The Last Ship, Royal Shakespeare Company) is wonderful as Elizabeth Laine. She simply didn't stop, ensuring every nuance of her characters illness was portrayed at all times. Her singing grabbed my soul and took it on a journey, particularly in Forever Young. McNamee played Elizabeth so touchingly that even though she had an illness of the mind, she often made more sense than most other characters around her, and her ability to deliver killer lines was diva worthy.
Gregor Milne (professional debut – wow!) as Gene Laine is brilliant. He has a scene that is so uncomfortable in his treatment of Joe, yet he has such tender scenes with Katherine or his mother that again you can't help but see the good as well as the bad. He swaggers around with a believable arrogance and drunkenness, equally portraying an underlying vulnerability. Brilliant. Justina Kehinde (Best Of Enemies, Hot In Here, Around The World in 80 Days) as Marianne is immediately likeable, warm, approachable, but tough and strong. Her voice is liquid gold and she has such a natural stage presence that you find yourself continually pulled into her performance. Understudy Nichola MacEvilly (The Odd Couple, The Wake, Constance, Snapshot) is a powerhouse as Mrs. Neilson. With some stunning vocals, tender acting, and comedic moments. I am thrilled we were treated to her performance this evening and long may the light continue to shine on her. Understudy Neil Stewart (Mrs. Henderson Presents, Spring Awakening, Jersey Boys) as Mr. Burke was so believable as the over the top salesman that I immediately brought a few real life characters I may know to mind. His brashness made the tender moments with his son all the more moving, and honest.
Rebecca Thornhill (Matilda, Hairspray, Gypsy) as Mrs. Burke was so versatile, switching from her heart wrenching reaction to her sons tragedy, to singing with such grace, to playing the drums! You name it, she did it. What a talent. Ross Carswell (another professional debut – incredible!) as Elias Burke was touchingly tender and terrifying in equal measures, taking his moment in the spotlight to lead a cracking musical number and commanding the stage. Joshua C Jackson (Caliban, Showstoppers the improvised musical, Black Mirror) as Joe Scott was powerful, gentle, subtle, and kept you guessing right up to the end as to the true nature of his character. Again, another outstanding singer, performer and demander of your attention. Understudy Owen Lloyd (Another professional debut – impressive!) as Rev, Marlowe was controlled, calm and gave an air of danger and mistrust, all of which were completely intriguing and engaging. Teddy Kempner as Mr. Perry, Frankie Hart as Katherine Draper (understudy) and Chris McHallem as Dr. Walker completed the main named cast. Each were simply outstanding. I know I keep saying this, but this cast was something special, each playing an integral part and shared their extraordinary talent.
Girl From The North Country is an exemplary piece of theatre, challenging the realms of musical theatre, and creating a play within it that feels like one of the classics! I started out a little unsure but I have to say it completely won me over and I would watch it again in a heartbeat. Emotive, witty, engaging and thematic, it likes to lean on your discomfort levels by making you face some harsh truths of social injustice, mental illness, prejudice, love, family, and grief, but it handles you with care, making sure you arrive back to your modern life a little wiser and with a little more patience and understanding for those we love.

WE SCORE THE GIRL FROM THE NORTH COUNTRY – 9/10
Most Popular Shows and Events in London