Rock of Ages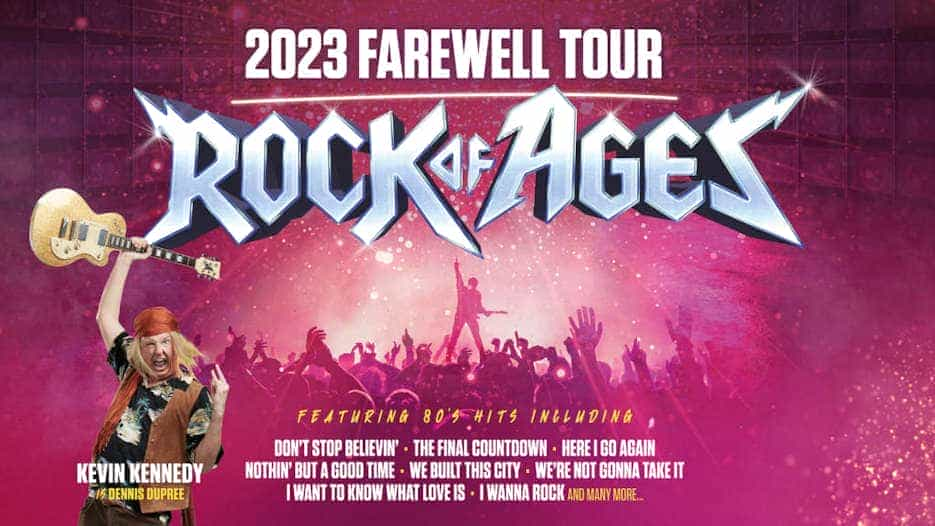 Join the West End and Broadway smash-hit musical Rock Of Ages on their Farewell Tour in 2023 - starring Kevin Kennedy (Coronation Streets 'Curly Watts').

After many long months rockin' out across the UK it's finally time for the guitars, the wigs, the bourbon, the eyeliner and the Fogmaster 5000 to get packed away and sent back to the 80's.
It won't be goodbye forever BUT we ask one more time – please, Don't Stop Believin' because when you just Can't Fight That Feeling anymore and you really Wanna Rock and Feel The Noize, you know what do to…
Book your tickets now and LET'S GET READY TO ROCK!
Watch our interview with Kevin Kennedy.
Rock of Ages Tickets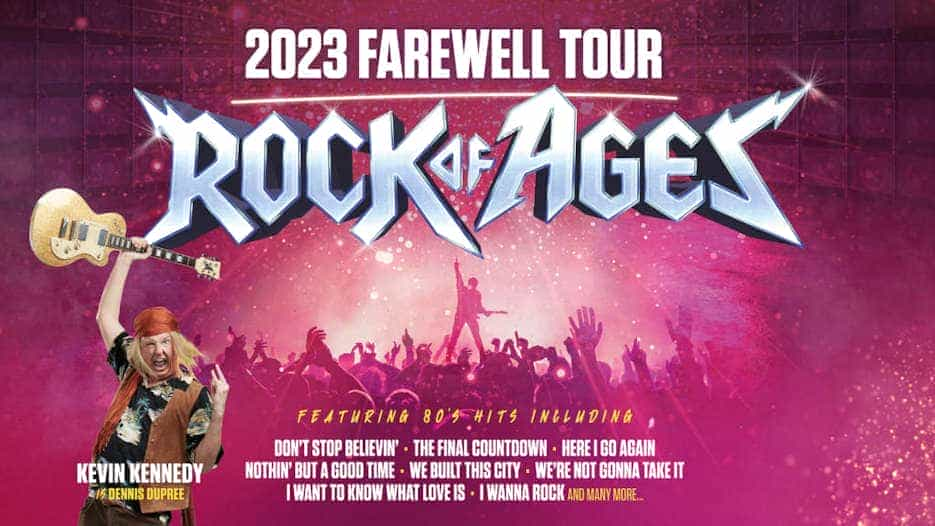 Sorry, there are no tickets for Rock of Ages in London available at the moment. This maybe due to one of the following reasons:
- Rock of Ages in London tickets are currently not on sale.
- The event has sold out.
- Details have not yet been announced for Rock of Ages in London.
- The event may have been cancelled.
- The event has been and gone.
Join our free mailing list for
updates about this event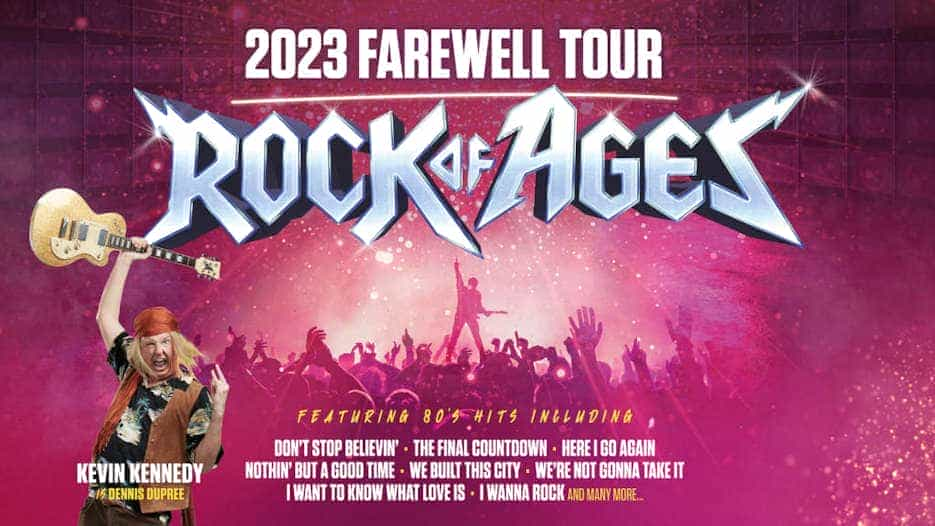 Our review on Rock of Ages
Rock of Ages - Opera House, Manchester - Wednesday 15th March 2023 by Karen Ryder
Our Rating
ROCK OF AGES IS THE MUSICAL FOR PEOPLE WHO DON'T LIKE MUSICALS, AND ALSO FOR THOSE WHO DO!

If you were alive in the 80's then there was no escaping the epic rock bands that dominated our airwaves. Twisted Sister, Europe, Whitesnake, and Journey were just a few of the leather clad, bandana wearing bands that enabled us to pop a lung singing along to their insanely genius tunes. And their music has gone nowhere! It has reverberated its way across the decades and found its own hall of fame in the slamming musical Rock Of Ages. So, the question is, "Are you ready to rock?" If you're raising an eyebrow at the sheer audacity of this question, with a rolodex of witty replies dripping off your tongue in response, then you may just have found your musical home. Rock Of Ages will unleash your inner rock God, pump adrenaline through your veins, and have your heartbeat vibrating in time to some of the best loved tunes ever!


Welcome to The Bourbon Room, a legendary nightclub on the LA strip that has launched some of the biggest rock stars this fantasy world has ever seen. As manager Lonny reminisces, he invites us into his world of legends, sex, drug, rock and roll…………..and debt. Nothing lasts forever, right? And The Bourbon Room is freefalling down the charts faster than a cheesy reality TV star's pop song. With the added pressure of German real estate developers wanting to demolish The Bourbon Room in the name of progress, Lonny and club owner Dennis Dupree have a few favours to call in. After all, Dupree's club launched the career of infamous rock star Stacee Jaxx, so what could be better than holding his farewell concert in the place it all began, raising the profile of The Bourbon club, and bringing in some much needed dosh! But a club such as this shines too bright to simply fade away, and as barman Drew fights for his own stab at success, and of course – the girl, he learns the harsh realities of the music industry and is pushed to the edge of his limits. Meanwhile, the girl – Sherrie – is new to town, green to this dark and sometimes seedy world, and after a lot of 'will they won't they' with Drew, finds herself seduced by Stacee, LA, and rock n roll. Throw in Regina, the Greta Thunberg of her time, and delight as unusual worlds collide through her protests. Strip clubs meet country girls, rock stars meet boy bands, and Dupree's heart finally meets Lonny's. The rest, as they say, is just rock n roll.
We are immediately welcomed into The Bourbon room as Lonny sets the scene. Scaffolding jam packed with amps dominate the stage, and new locations are introduced via a billboard at the back of the stage. Set pieces emerge with flashing neon lights, the filthiest toilet cubicle known to man appears and strip poles take us from The Bourbon room to Venus. Toddler bikes comically act as transport, and the bar and the scaffolding are used to propel dancers, singers, and llamas to new heights!


The song choices that create the wicked playlist for Rock Of Ages are timeless classics that will leave you head bopping, air guitaring, and singing praise to the Gods of rock n' roll. Performed by a live and out of this world talented band, you'll find yourself down memory lane with corkers such as We Built This City, The Final Countdown, Can't Fight This Feeling, Wanted Dead Or Alive, Don't Stop Believing, Here I Go Again, Hit Me With Your Best Shot, I wanna Rock – and with many more in their back catalogue, you'll leave breathless, invigorated and with your ears ringing! And whilst there is so much comedy and tongue in cheek humour involved in these performances, there are also moments of pure beauty, such as the ensemble singing of Every Rose Has Its Thorn. This gave me the happy sighs of wow-ness. And I also have to mention the amount of absolutely cracking mash ups that the show provides, propelling you from one hit to another, and back again, blending, merging and mixing with ease and raising the ultimate rock tunes up another notch. The music really is incredible. There is no doubt that all of this is completely live from the first chord as you literally feel its vibrations in your heart. It was so powerful, my dad even double checked I could feel it too to make sure he wasn't having a medical emergency!


Humour plays an integral part in Rock Of Ages. It doesn't take itself too seriously, and combines innuendo, smut, dad jokes, and a carefree, daft hilarity that had me continuously giggling away. There is even a touch of Acorn Antiques style humour as the cast play along at missing their spotlights, break the fourth wall and encourage 'ahh's and boo's' from the audience, and randomly break into song or do brilliant costume reveals. Rock Of Ages knows exactly what kind of a show it is. It is one that is there for pure entertainment. It mocks itself constantly, and the audience are always included in the jokes, making the whole thing feel like you are part of a really cool gang.


Tonight's cast deserve all the praise I can give them. They were relentless with their energy, and a huge amount of team spirit was evident throughout. Dennis Dupree was brought to fabulous life by Kevin Kennedy (Coronation Street, We Will Rock You, Chicago). He has a natural and warm stage presence that makes you smile just by him being on stage. A great rock voice, a quick sense of humour, along with his portrayal of always being just a little bit stoned, created a corker of a character that was brilliant to watch.
Darius James (Starlight Express, The Secret Invasion – Marvel) was our rockin' guide as Lonny and what a guide he was! An instant rapport with the audience, he strutted, sleeked, and slammed his way across the stage, holding us all in the palm of his hand for the entire performance. He pitched his smut at just the right level and made the whole thing seem effortless and like he was having the time of his life. As this is not his usual role, I have to say I hope this is not his last outing as Lonny for he was born for the part!


Sherrie arrives at The Bourbon Room courtesy of Gabriella Williams (ALW Cinderella, Miss Saigon, Mamma Mia) and charms the entire theatre with her belting voice, her stage presence and her brilliant partnership with Sam Turrell (NCL, The Flyboys, Royal Caribbean) as the incredible Drew. Together, they are so strong and likeable that even with all the tongue in cheek humour and absurdity of the show, you still find yourself routing for this couple to get their timing right and find happiness. Turrell, I have to say, also proves he must have lungs of steel as he holds possibly the longest note ever recorded!
Stacee Jaxx is immortalised by Reece Duncan (MSC cruises, professional musical debut) and again, as someone who doesn't normally play this role, makes it his own with an unspoken aura and command all of his own. A great and powerful voice rings throughout the theatre. Stephanie Chandos (9 to 5, Hairspray) permeates energy as Regina and brings a little bit of quirky crazy that makes her stand out for all the right reasons. Vas Constanti (Miss Saigon, Rocky Horror, JCS) and David Breeds (The Curious Incident Of The Dog In The Night time, Dear Evan Hansen, The Girls) as Hertz and Franz Klinemann are epic! Funny, random, and a brilliant partnership. Breeds was a clear audience favourite for his over the top, adorable, sexually confused, and just wanting to be loved Franz, with some bat crazy break out moments. The incredible pipes of Justice are provided by Natalie Winsor (Abba Voyage, King Arthur, Rent)


Rock Of Ages is the musical for people who don't like musicals, and also for those who do! It's belting soundtrack, punchy humour, delicious innuendo, and its ability to poke fun at all things musical whilst still loving everything about it at the same time, is what makes this show a number one hit! It's sheer unadulterated fun. You don't need to think, you don't need to work at all, you just need to turn up! It's a night of pure entertainment and escapism, no deep thinking needed here. It's an experience that cranks up the amps on your feel good factor to "wooooohoooooooo!" and unplugs the stresses of the day. Rock Of Ages is cheeky, brash, fun, and doesn't care about the rules. Fourth walls are there for breaking, and rock is there for the taking. You'll be rockin' in the aisles, get jaw ache from grinning with exuberant joy, and leave feeling a tad more rebellious than when you arrived. So, "are you ready to rock?" Always my friend. Always!
WE SCORE ROCK OF AGES...


Most Popular Shows and Events in London