Shrek The Musical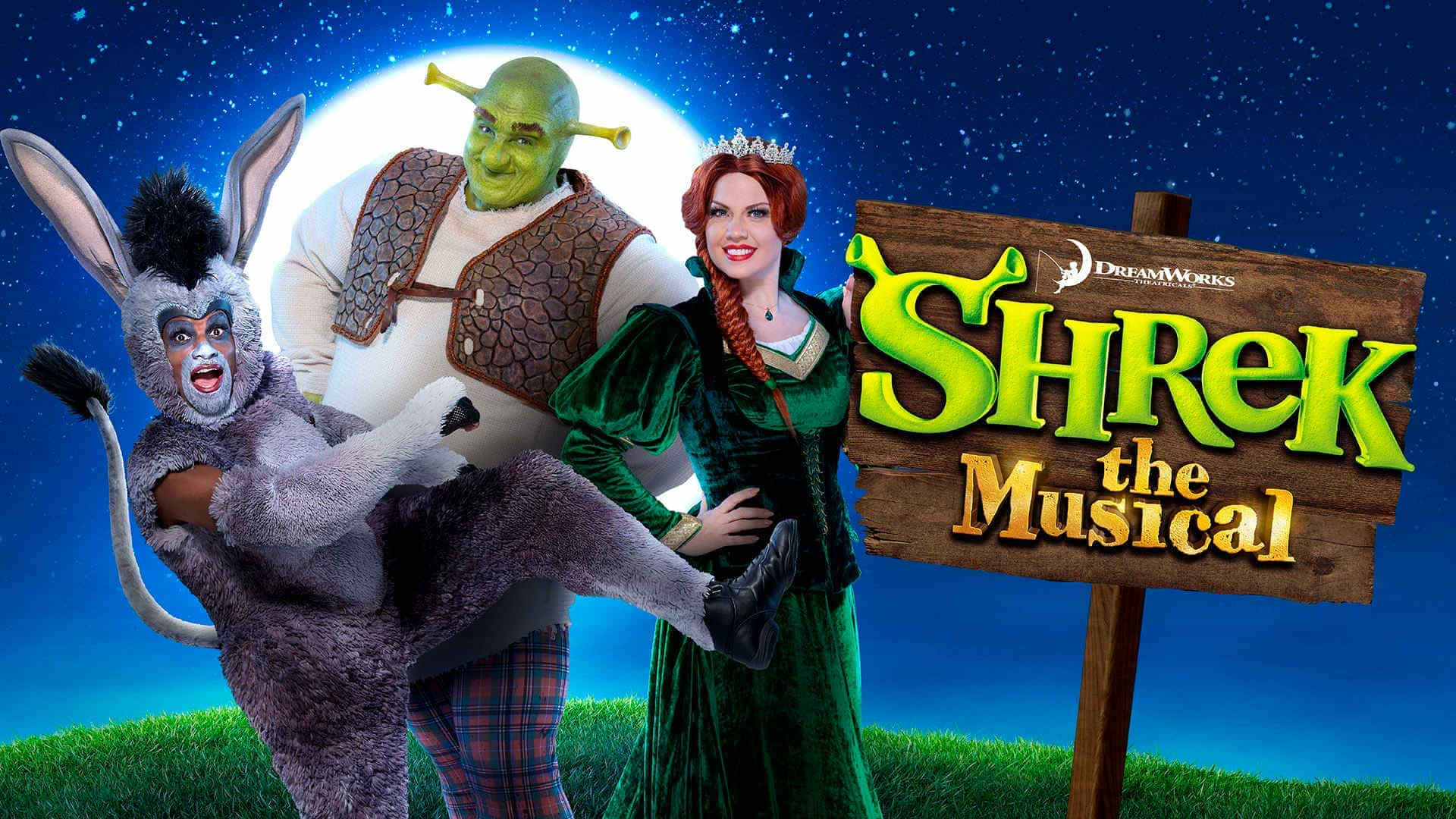 Based on the Oscar winning DreamWorks film, the Broadway and West End smash hit Shrek the Musical is a fun filled and hilarious musical comedy with a cast of vibrant characters and a 'shrektacular' score.

Leading our stellar cast as the legendary Shrek is Theatre extraordinaire Antony Lawrence (The Lion King, Mary Poppins, Matilda the Musical, We Will Rock You), Strictly Come Dancing and leading lady Joanne Clifton (Strictly Come Dancing, The Addams Family) as the beloved Princess Fiona, Olivier-Award nominated James Gillian (Everybody's Talking about Jamie) as the evil Lord Farquaad, and Theatre favourite Brandon Lee Sears (Dreamgirls, Come From Away, Motown) as the loveable donkey.

Featuring fabulous songs including the smash hit I'm a Believer, Shrek the Musical is a "musical extravaganza for big kids and little kids alike".


Come join the adventure as Shrek and Donkey endeavour to complete their quest, finding unexpected friendships and surprising romance along the way.
A perfect night out for the young, and the young at heart, the award-winning Shrek the Musical is guaranteed fun for all ages and will have you dancing and laughing all the way home.
Based on the DreamWorks Animation Motion Picture and the Book by William Steig
Book and Lyrics by David Lindsay-Abaire
Music by Jeanine Tesori
Originally produced on Broadway by DreamWorks Theatricals and Neal Street Productions
Shrek The Musical Tickets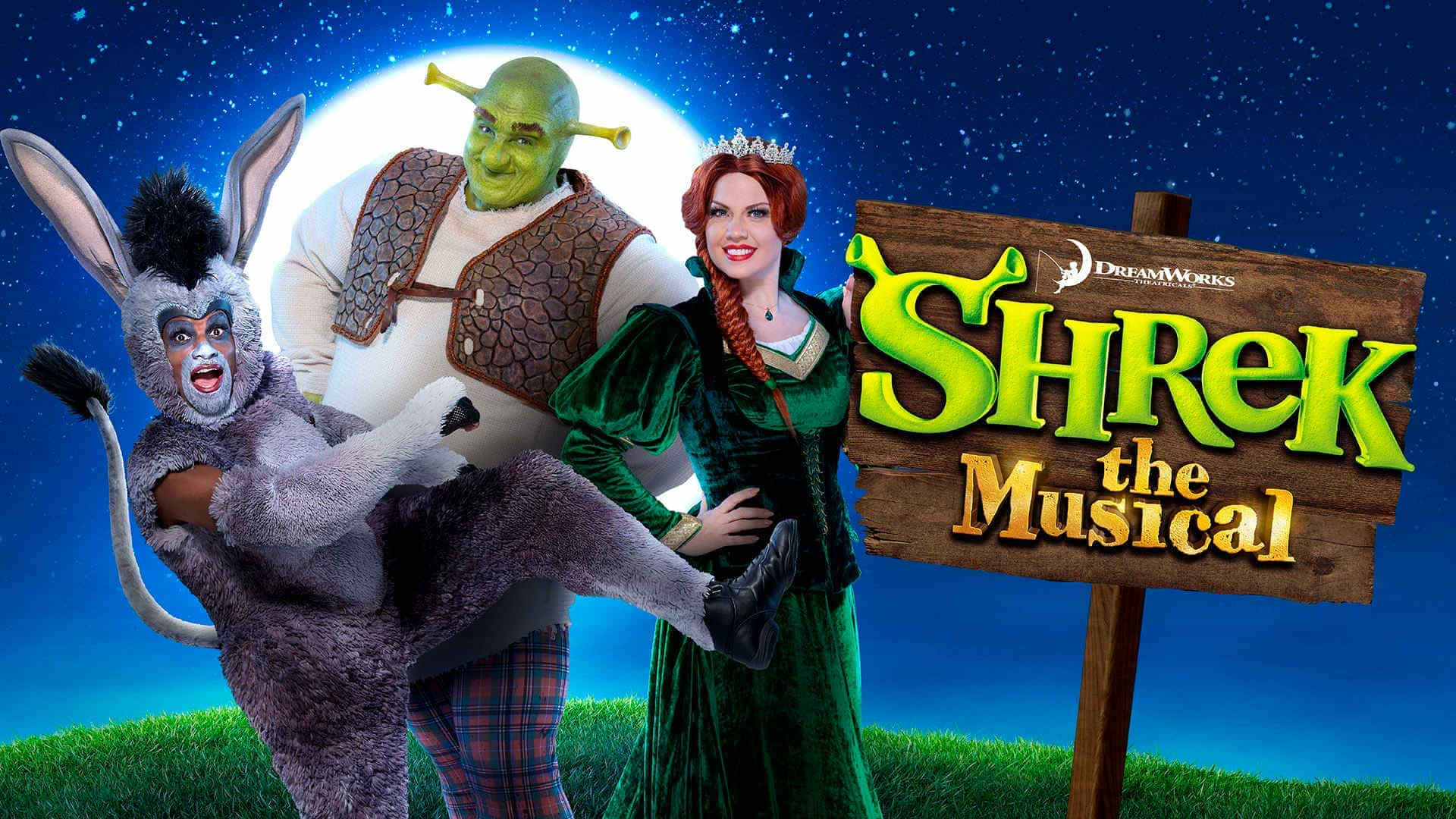 Sorry, there are no tickets for Shrek The Musical in London available at the moment. This maybe due to one of the following reasons:
- Shrek The Musical in London tickets are currently not on sale.
- The event has sold out.
- Details have not yet been announced for Shrek The Musical in London.
- The event may have been cancelled.
- The event has been and gone.
Join our free mailing list for
updates about this event
Our review on Shrek The Musical
Shrek The Musical - Manchester Opera House - Wednesday 2nd August 2023 by Karen Ryder
Our Rating
SHREK IS A GREEN, SHEEN, MUSICAL MACHINE THAT OFFERS JOY, HOPE AND HAPPINESS!


Shrek has to be one of the most quotable animated films of its time, and one of those rare nuggets that engages everyone in equal measure, regardless of age. It pokes fun at fairy tales, whilst kind of being one itself, finds a way to make toilet humour appealing to everyone, and even manages to pack a punch with its messages of acceptance, tolerance, friendship and loyalty. Its secret to success is to have an unlikely hero and an even more unlikely Princess. It's a fairy tale that filters and flips the rules to fit with reality, and not pander to an airbrushed, fake existence. In short, it is a breath of fresh air – well as fresh as the air can be when there are ogres around! Shrek The Musical stays faithful and loyal to the film, yet equally manages to squeeze in a few extra nuggets of gold for you. It is optimistic, uplifting, and defiant. We first see Shrek as a mere ogre of seven, being sent on his not so merry way by his parents, and soon discover that he has been told what life will hold for him, and watch as he defends before he can be hurt. Many years later, the isolated Shrek is aghast as a whole bunch of fairy tale folk are unceremoniously dumped on his swamp by Lord Farquaad who can't abide them being in his Kingdom a second longer. Shrek doesn't give a fig what Lord Farquaad wants and so sets off to demand their removal with immediate effect. On route, he quite literally runs into Donkey, the only one who has never balked at Shrek's obtrusive behaviour or ghastly roar. They become unlikely companions on a quest to save Shrek's swamp. They arrive in Duloc to find Lord Farquuad holding a competition, upon which the winner will go and rescue a Princess for him to marry. Enter Shrek. If he rescues Princess Fiona, he can have his swamp back. A new quest begins for Shrek and Donkey, but Fiona is not what she appears to be. "By night one way, by day another. This shall be the norm. Until you find true love's first kiss. And then take love's true form."


Antony Lawrence (The Lion King, Matilda, We Will Rock You) brings out the best in Shrek. Instantly loveable, you cannot help but warm to his humour, his vulnerability, and peel back those onion layers to reveal the biggest heart ever. Lawrence somehow makes Shrek's complexity simple, possibly because he makes this green ogre so relatable and honest. With a cracking set of pipes, his voice easily reverberates around the theatre and makes you take notice more than any roar will. An outstanding relationship is developed with Joanne Clifton (Strictly Come Dancing, The Addams Family, Rocky Horror) as Princess Fiona, with the joy and camaraderie beaming from both. Clifton redefines what it is to be a Princess and I utterly adored her portrayal. Fiesty, funny, sassy, strong willed, scrappy, and full of genuine spirit, what a positive force to send out into the world about how we can be independent yet connected at the same time. She has a natural warmth on stage that extends to her undeniable talent as not only a dancer, but singer and actress too. Brandon Lee Sears (Dreamgirls, Come From Away, Heathers) as Donkey is everything you hope he will be, and then some. Hyper active, funny, and adorable, he is equally solid enough that when he holds a mirror up to Shrek and calls him out on his world views, you take him seriously. It was great to see him bust some of his dance moves – who ever knew a Donkey could jazz splits?! Throw in some impressive vocal riffs and Donkey had the audience eating out of the palm of his hoof. James Gillan (Tommy, Everybody's Talking About Jamie, Little Shop Of Horrors) was our much loved villain Lord Farquaad. Flamboyance, extravagance and petulance are brought to the role by Gillan and it makes it difficult for you to dislike Farquaad in quite the same way you do in the film, which is a brilliant choice. Make no mistake though, this is no pantomime villain but a fully fleshed out character, who is even given a clever and witty back story so we gain a little insight into his diva mind set. Gillan makes the role seem effortless and takes his curtain call boo's with good nature. Cherece Richards as the dragon, Georgie Buckland as Gingy, and Mark D'arcy as Pinocchio have opportunity to share their undeniable vocal talents, and it goes to show what a crazy talented cast this really is.



Shrek is given a sprinkling of fairy tale magic by its wonderful creative team who vividly bring the animated film to life before our very eyes. The costumes by Philip Whitcomb instantly pop off the stage and dazzle with detail and colour. They are simply put, gorgeous. From the White Rabbit to The Big Bad Wolf, The Three Little Pigs to Peter Pan and Tink, our beloved childhood story books burst onto the stage unapologetically and demand to be noticed. Pleasure could be gained simply by drinking in the array of fabulously donned characters. Combine this with the softness of a cartoon-esque set (also designed by Whitcomb), with every setting you could possibly wish for from the film, and you won't be disappointed. With a perfectly aligned partnership between tangible and digital (Nina Dunn – Pixil Ltd) we are taken to every corner or this make believe world, from Shrek's swamp to the fiery depths of the dragon protected castle. With a pit stop in Duloc and the odd torture chamber along the way, Shrek and Donkey guide us with humour, heart, and hum dinging farts through this fabulously fun family musical.

If you have seen Shrek The Musical before, then you may notice a few changes. There are no child actors playing younger versions of the characters, Lord Farquuad is no longer reduced to appearing short by walking round on his knees, the mirror is missing, and the dragon has been reimagined. I'm sure different audience members will have different opinions on all of these changes, but for me, it took nothing away from the show at all, and if anything, gave it more freedom. The new dragon was the only thing that took a bit of getting used to for me personally, for as fabulous as the puppet creation was – and it really was, Cherece Richards - the performer voicing it was not part of the puppetry. She was dressed to impress in an epic costume all of her own. Add in her stage presence and incredible vocals and all of my attention was drawn to Richards, making the puppet seem redundant as I just couldn't focus on it.



The inclusion of rolling scenery to take us on the different quests was brilliant and even allowed for a fun inclusion of Puss In Boots on route. There were humorous and subtle nods to motifs from other musicals, such as Rose's Turn from Gypsy, Defying Gravity from Wicked, and You're Gonna Love Me from Dreamgirls. This was a clever extension of the initial subtle banter and nods in the original film to Disneyworld and It's A Small World, which I'm thrilled to say, also appear in this stage show. One of my favourite moments was the duet I Think I Got You Beat between Shrek and Fiona. It was a masterclass in how to develop an entire relationship in one song. The characters start by disliking each other, yet in the space of one song, bond, become friends, and develop feelings for each other. And the best part of it all is that they bond through gas! Burping and farting! Yes I am a grown adult saying that this works and is fun, but it really does and it really is. You see the fun, the relaxed nature and you want to share in it (not by burping and farting of course), but it just makes you warm to the characters and the show as a whole. The giggles from the children, and even adults is infectious and on top of that – it's a really raucous, showbiz and brilliant tune. And with famous lines from Donkey such as "Man, you gotta warn somebody before you crack one like that. My mouth was open and everything," thrown in, you can't help but go with the flow. Another great song of celebration was Freak Flag that filled the auditorium with positivity and a place where being different was safe and welcomed.

Shrek The Musical is a green, sheen, musical machine that offers joy, hope, happiness, and reconnects you with your inner child whilst giving your adult self a reminder about what is actually important in life. Imperfections are what make us our own kind of perfect, not glossy, shiny perceived portrayals of beauty. It's a show that has a big green, ogre beating heart at its core, and shows you it's ok to be a little more Shrek, Fiona and Donkey. You will not be disappointed, and with a rip roaring finale of I'm A Believer, we couldn't help but jump to our feet and join in the fun.

WE SCORE SHREK THE MUSICAL...




WATCH OUR "IN CONVERSATION WITH JOANNE CLIFTON" VIDEO



Other events you may like...
Most Popular Shows and Events in London