Singin' In The Rain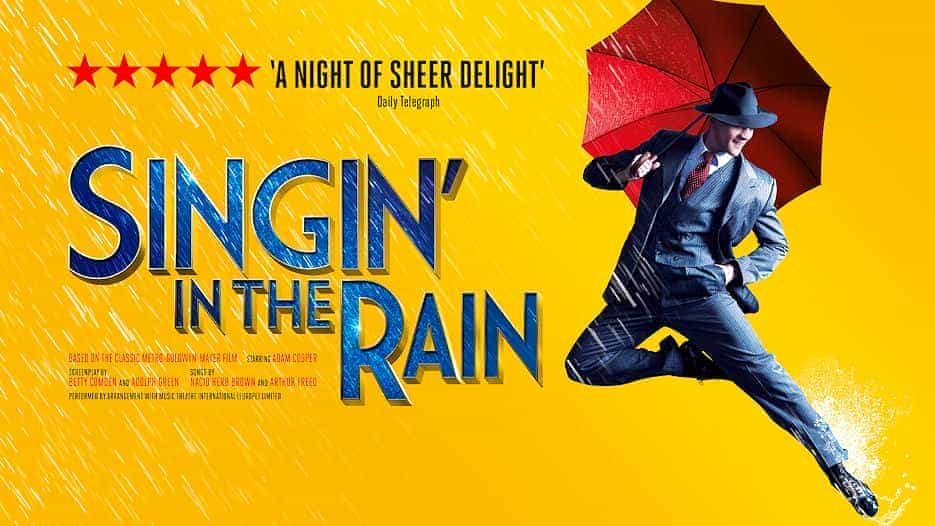 Singin' in the Rain returns to the London theatre stage for a special run at Sadler's Wells in London following its critically acclaimed, sold-out run at Chichester Festival Theatre and a sell-out run at London's Palace Theatre.
One of the favourite movie musicals of all time, this production is based on the classic Metro-Goldwyn-Mayer film. Set in the roaring 20s when silent movies stars were the cream of the crop across the world, Singin' in the Rain tells the story of Don Lockwood. He's a man who has everything, a slew of hit films and a romance arranged by the studio with the most beautiful actress in town. But as talking pictures are poised to become the new best thing, a chance meeting with a talented young chorus girl seems set to steal his heart, it seems that everything is about to chance for Hollywood, and Don. This production of Singin' in the Rain has all the charm, romance, comedy and Hollywood glamour of one of the world's most beloved films. Featuring the legendary original MGM score including your favourite songs like 'Make 'em Laugh', 'Good Morning', 'Moses Supposes' and the defining 'Singin' in the Rain'.
Jonathan Church's critically acclaimed production of Singin' in the Rain is realised on the Sadler's Wells stage by choreographer Andrew Wright, whose stunning and energetic vision is magnified by the luxurious set design of Simon Higlett which includes over 14,00 litres of water on stage at each performance. The screenplay is by Betty Comden and Adolph Green with songs by Nacio Herb Brown and Arthur Freed.
This show is guaranteed to have you swinging off the lamp posts so don't delay get your tickets to Singin' in the Rain while you can!
Singin' In The Rain Tickets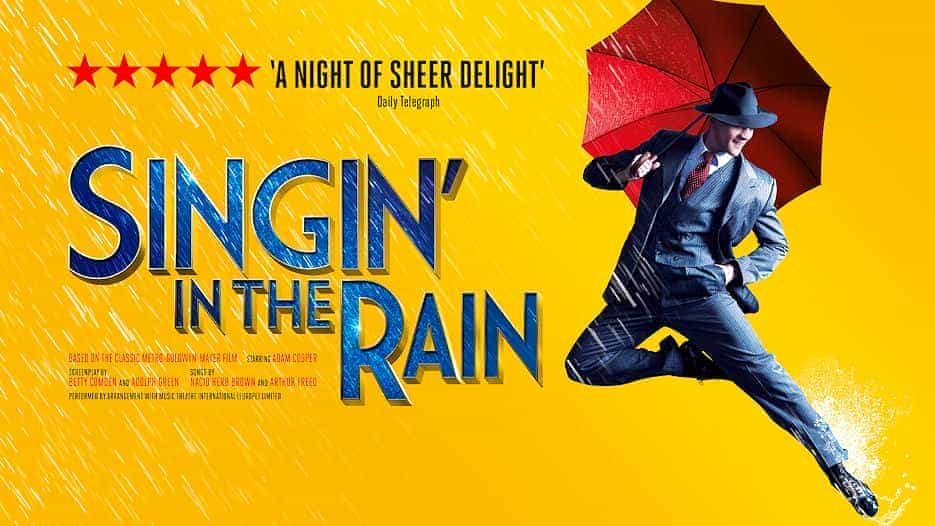 Sorry, there are no tickets for Singin' In The Rain in London available at the moment. This maybe due to one of the following reasons:
- Singin' In The Rain in London tickets are currently not on sale.
- The event has sold out.
- Details have not yet been announced for Singin' In The Rain in London.
- The event may have been cancelled.
- The event has been and gone.
Join our free mailing list for
updates about this event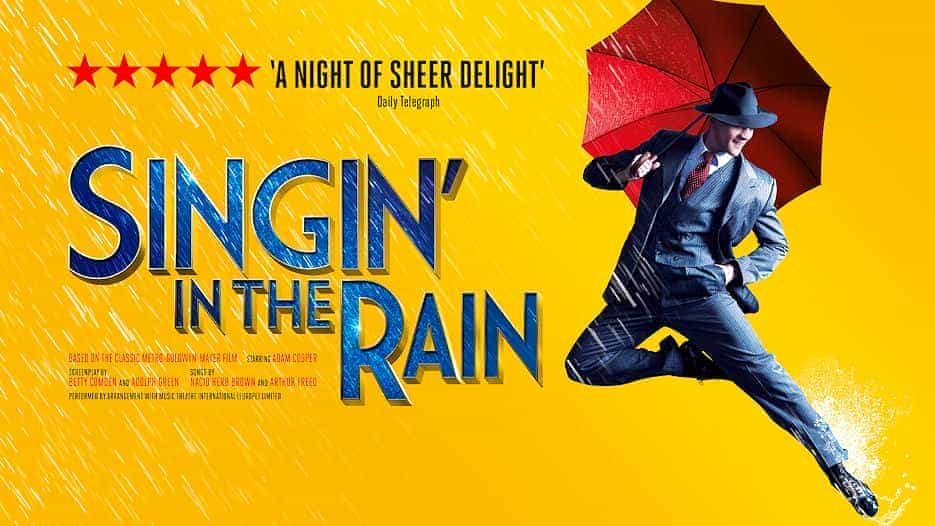 Singin' In The Rain ON TOUR
Our review on Singin' In The Rain
Singin' In The Rain - Opera House, Manchester - Tuesday 10th May 2022 by Karen Ryder
Our Rating
To say I've been excited about watching Singin' In The Rain this evening is somewhat of an understatement. The smash hit 1952 film is one of my all-time favourites, Gene Kelly is one of my idols, and when I saw the stage version around thirty odd years ago with Tommy Steele I was blown away. Then discovering that dancer and choreographer extraordinaire Adam Cooper was part of the cast, and the anticipation of seeing such classics as "Singin' in the rain", "Make 'em laugh", "Good morning", "Broadway melody ballet" – I knew that this production would shower us with the best of the best, and that for once, we would all be happy to welcome the rain in Manchester!

Set in 1920's Hollywood, Singin' In The Rain introduces us to silent movie star Don Lockwood. Lockwood is a Hollywood legend and happily makes hit movie after hit movie with his on-screen romantic partner Lina Lamont. Together they are cinema gold, celebrated by all. But nothing lasts forever, and as technology moves on, films start to introduce sound. As a new era of Hollywood is born with the introduction of the 'Talkies', can Lockwood and Lamont retain their Hollywood glamour status as the golden couple? Well, it appears maybe not, for Lina may look like a goddess but it turns out she sounds like a strangled cat! As Producers transition their silent film into a musical, it is decided that Lina must be dubbed for the good of the film. Lockwood takes control and introduces aspiring chorus girl Kathy for the job, who he ultimately falls in love with. This brings its own brand of feisty friction from Lina as jealousy and envy rampage through her blood. It also seems that no one at the studio actually knows anything about this new technology or indeed music, so Lockwood gets his best friend and musician Cosmo hired. With the perfect trio of Don, Cosmo and Kathy now complete, momentum takes over, talent shines through, and movie magic is made.
So where to start? Because this production transcends words! Talent, magic, euphoria, and jubilation wash over an awe-struck audience with the sophistication of a by-gone era and the celebration of a tangible Hollywood Glamour. Visually the show is simple but stunning, with Hollywood style bright lights, spotlights and the famous streetlight. A basic set of a soundstage is openly transformed to meet the requirements of each scene, with a subtle touch of fresh lighting and furniture, such as red lights and street signs for outside the Hollywood Chinese theatre, a park bench and dimmed lights, or the fall of a curtain accompanied by a flurry of naked bulb lights to represent a stage. The sets are clear, and clutter free, allowing all the necessary space needed for the epic dance routines. The show starts as any Hollywood musical should with an opulent overture, teasing our tastebuds for what is to come. The overture is partnered with the ensemble dancing their way through the different musical snippets, with exquisite attention to storytelling. Watch each dancer closely as they portray movie crew staff members, such as the cleaner or the costume girl using every opportunity to try and audition for the big wigs. This opening is sharp and clever, forming a feel for the fame hungry Hollywood way of life.
The whole production is so slick, joyous and oozing with perfection that all I can do is briefly mention the different numbers and moments, because given half a chance I would recreate the show in its entirety and quote lyrics, jokes and choreo combinations to my hearts content. The Moses Supposes number was phenomenal. Not only were the audience blown away by the comic timing and speed of the impressive tongue twisters that led into the number, but the tap routine that followed was toe tappin' heaven! Alastair Crosswell joined Adam Cooper and Ross McLaren for this number and he was so phenomenal he was hard to keep your eyes off. I'm sure this could be an alternative meaning to a triple threat because these three tore up that floor and tapped their way into my top treats of the entire show!

Good morning was obviously one of those numbers that myself and the audience had been waiting for and it didn't disappoint. I have to say, the rapport and camaraderie between Cooper, McLaren and Gooch as Don, Cosmo and Kathy was palpable and it added to the experience, making you extra happy to see them so happy. Their timing, trust and humour shines through every step, every nuance and every note sung, culminating in the famous walk over the sofa (or in this case a park bench). I can't express enough how much joy these numbers bring. It should honestly be prescribed on the NHS!
The Broadway Melody Ballet number was everything I wanted it to be and then some. I initially wondered if the scale of this number from the film would be lost on stage, but then I quickly became embarrassed at my own stupidity because what unfolded was nothing short of amazing. It had everything recognisable from the epic film number, right down to the colourful costumes, the geeky glasses, hat and suitcase of Lockwood's Broadway character. There were neon lights a plenty, tap, ballet, swing, sass and the glorious seduction of what was Cyd Charisse's sensational dance, this time performed with a wickedly lavish ease by Harriet Samuel-Gray, who delivered a performance to behold.

An old fashioned cinema screen was lowered for moments in the story when Monumental Pictures were assessing their film making of 'The Dancing Cavalier'. This was a sublime method of allowing us to laugh at the technical sound issues such as a huge time lag - meaning the wrong words ended up syncing to the wrong actor, or when the rustling of jewellery overtook the performance, or the microphones picking up Lina's heartbeat and indeed when Lina only spoke every other word into the microphone!

There were other favourite moments from the film that were honoured such as Lina's "I cayn't Staynd eet" line, famous dance moves and silhouettes, and beautiful nods to the costumes by head of wardrobe Abigail Morgan. Anyone who holds the film close to their heart will not be disappointed.
Neither will any Gene Kelly fans be disappointed with tonight's counterpart Don Lockwood – Olivier and Tony Award nominated Adam Cooper (Royal Ballet, The Red Shoes, choreographer for Sunny Afternoon which won 4 Olivier Awards, and director). Cooper's Lockwood is simply sensational. I feel privileged to have witnessed his performance this evening and in no way shape or form ever felt the need to compare him to either Gene Kelly or Tommy Steele, for he is Adam Cooper and believe me, that name holds the same kudos and talent, and I do not say that lightly. Cooper floats on air when he dances. He transfixes you whether it be tap, ballet, modern, solo, partner work, trio work, ensemble work – he just has that intrinsic "it factor." He was born to dance and seemingly belongs in this era of movie romance. His performance makes you swoon, and I have never used the word swoon in any review, or in any part of my life before really, but there you go! I swooned! Cooper is never more alive when he performs the shows title number of Singin' In The Rain, and seems to take great personal joy in the number, particularly engaging the first few rows with his splashing and kicking of water. It's brilliant! He's brilliant!

Ross McLaren (Sleepless, Guys and Dolls, Big, Elf, Top Hat, Luca McIntyre in Doctors) is the perfect Cosmo Brown. His natural stage presence and congeniality allow him to be an instant audience hit from the moment he steps onto the stage. He always appears to be on the verge of laughing, corpsing or winding up his cast members, and his clear comradeship immediately confirms you are in a safe pair of hands. McLaren proves his talent time and time again, but never more so than in the classic Make 'Em Laugh. What a performance! There is so much going on! Slapstick, tumbles, tricks, dancing, singing, physical theatre, comedy – it's never ending! McLaren delivers his parting shot to the number with the famous 'walking the wall' moment, which deservedly receives a spontaneous applause from a flabbergasted and impressed audience.

Kathy Selden is given life by the outstanding Charlotte Gooch (Flashdance, Strictly Ballroom, Top Hat, Dirty Dancing, Legally Blonde). Gooch is a natural and it's impossible not to be swept away by her stunning voice, delightful dancing and feisty acting. The perfect partner for Cooper, Gooch is his equal and holds court on more than one occasion, with mesmerising performances such as Lucky Star and Would You. She seems genuinely at home in this role and I kept forgetting I was watching three performers, and not three friends goofing around for real, particularly in Good Morning. An incredibly believable and genuine performance. Her rival Lina Lemont is played by the irrepressible Jenny Gayner. Gayner was a clear audience favourite. Her skill at sounding so dreadful and acting so badly was simply so good! As one audience member said, "You've got to be so good to play someone that bad!" She was hilarious and consistently provided the biggest laughs of the night with her high pitched nasal voice, mispronunciation of words, narcissistic self-belief and own brand of style and sophistication. Gayner took a pie in the face with class and walked away from it with sass. Her solo "What's Wrong With Me?" was purposefully sung out of tune and yet a song has never sounded better. Her talent for comedy is abundantly clear and she justly received one of the most rapturous audience applauses.
It was a wonderful surprise to see Sandra Dickinson (extensive tv, film & teatre work including Ready Player One, Superman 3, Hitchhiker's Guide To The Galaxy, Casualty, Holby, A Streetcar Named Desire, Chitty Chitty Bang Bang, The Wedding Singer) as part of the cast as I didn't know she was in the show. Dickinson created a couple of different roles, so we were treated to the breadth of her mighty character work. It's incredible to watch her live. What a joy! With such a strong cast and ensemble, which also includes the incomparable Michael Matus and Dale Rapley, it's no wonder that Singin' In The Rain is continually wowing audiences up and down the country and receiving top rating reviews. This particular rain cloud shows no sign of stopping or slowing down either, and thank goodness because on this occasion, to quote (or slightly misquote) Peter Kay "It's spitting! Everybody into the theatre!" Trust me! You don't want to be the one to miss out.

However, the star turn of this production has to be the rain! I challenge anyone to ignore the child in their hearts that is simply dying to jump up and splash, kick and frolic in the puddles along with the cast in this phenomenal piece of theatre. The anticipation that comes with this number is not in vain and you will roar with sheer laughter and disbelief as the number unfolds. Even if you think you know what's coming – you have no idea!!

To use the name of film company in the show, this revamp of the 2012 Chichester Festival and West End production of Singin' In The Rain is 'Monumental!' This is a happy, feel good sensational splash of a show that will leave you soaked with joy, dripping with happiness and wanting to dance in the rain! Throw caution to the wind, leave your umbrella at home and beware – those in the first few rows may get wet!! So, 'Come on with the rain' because I've definitely been left with 'a smile on my face!'
WE SCORE SINGIN' IN THE RAIN – 10/10


Most Popular Shows and Events in London