The SpongeBob Musical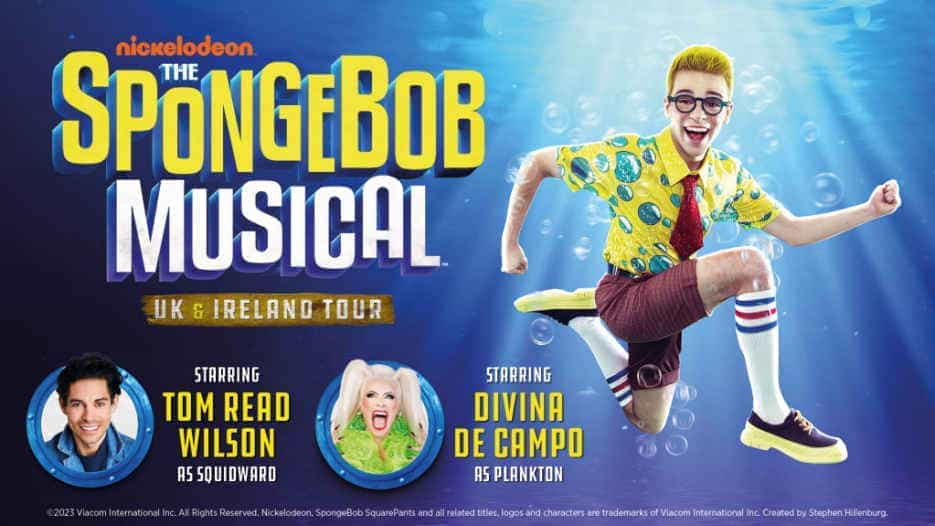 Who lives in a pineapple under the sea and became the hottest star on Broadway? Why, it's SpongeBob SquarePants! And now he's ready to ride the wave to entertain and delight audiences in this brilliant, bright, hilarious and brand-new musical production.

Plunge into this stunning all-singing, all-dancing, dynamic stage show! When the citizens of Bikini Bottom discover that a volcano will soon erupt and destroy their humble home, SpongeBob and his friends must come together to save the fate of their undersea world! With lives hanging in the balance and all hope lost, a most unexpected hero rises up. The power of optimism really can save the world!
Starring
Ru-Paul's Drag Race
legend
Divina De Campo
and based on the series by Stephen Hillenburg,
The SpongeBob Musical
, written by
Kyle Jarrow
and conceived by
Tina Landau
, features a tidal wave of original songs by the world's most iconic rock and pop artists, including Yolanda Adams, Steven Tyler and Joe Perry of Aerosmith, Sara Bareilles, Jonathan Coulton, Alex Ebert of Edward Sharpe & The Magnetic Zeros, The Flaming Lips, Lady A, Cyndi Lauper, John Legend, Panic! At the Disco, Plain White T's, They Might Be Giants and T.I., and songs by David Bowie, Tom Kenny and Andy Paley. Additional lyrics by
Jonathan Coulton
. Additional music by
Tom Kitt
.
An exciting new production featuring irresistible characters, magical choreography and dazzling costumes; this deep-sea pearl of a show is really set to make a splash with audiences young and old as the must-see musical of 2023. The future is bright, the future is bold, the future is
The SpongeBob Musical
.
The SpongeBob Musical Tickets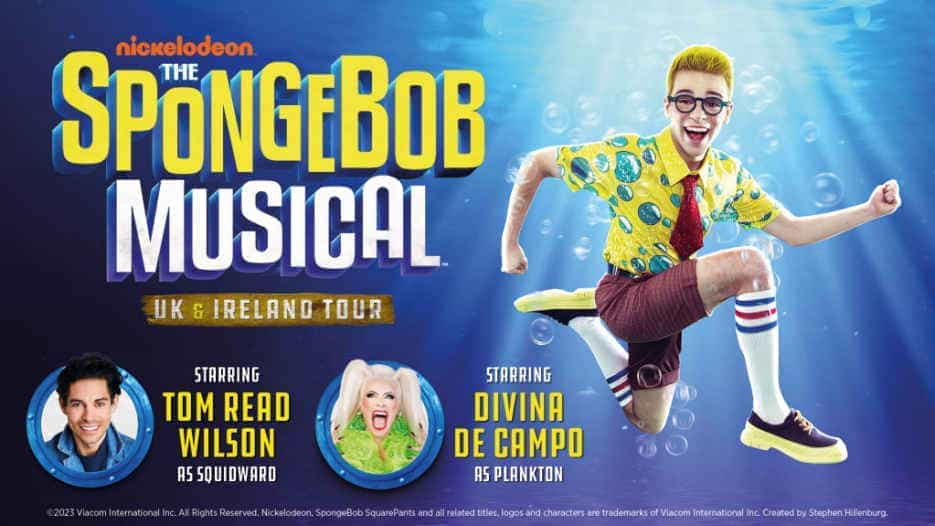 Sorry, there are no tickets for The SpongeBob Musical in London available at the moment. This maybe due to one of the following reasons:
- The SpongeBob Musical in London tickets are currently not on sale.
- The event has sold out.
- Details have not yet been announced for The SpongeBob Musical in London.
- The event may have been cancelled.
- The event has been and gone.
Join our free mailing list for
updates about this event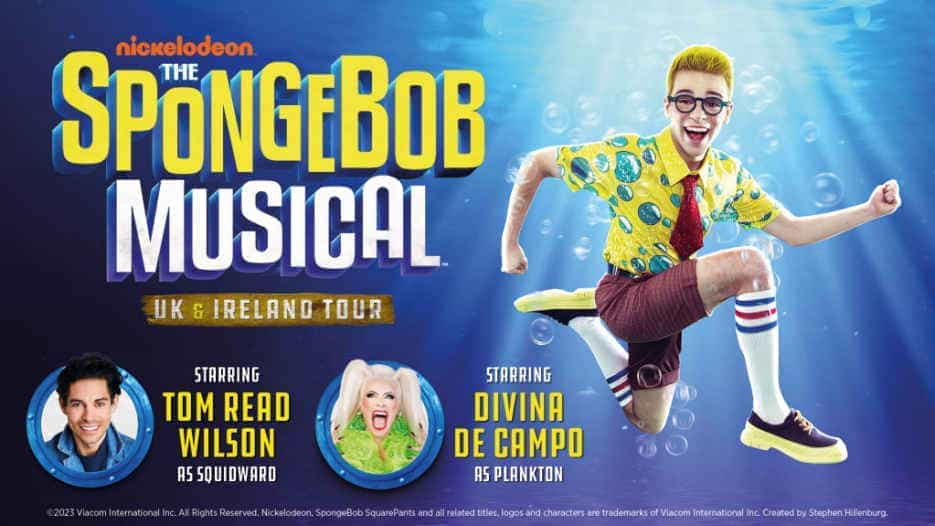 The SpongeBob Musical ON TOUR
Our review on The SpongeBob Musical
The SpongeBob Musical - Manchester Opera House - Tuesday 16th May 2023 by Karen Ryder
Our Rating
THE SPONGEBOB MUSICAL IS THE MUST-SEE FAMILY SHOW FULL OF JOY, BELLY LAUGH JOKES AND INCREDIBLE SONGS!


It's not every day you get to see a cartoon brought to life on stage, and who would have thought that it was even possible? Especially when these cartoon characters all live under the sea and are a unique set of individuals from a sponge to plankton! I have been intrigued as to how this will happen for quite some time, and I have to say that what I found not only pleasantly surprised me but made my inner creative nerd shout yesss! It is clever, inspired and so far removed from what I expected that I found myself grinning from the off.


SpongeBob SquarePants and his pals live a happy, contented life in the underwater town of Bikini Bottom, that is until they discover a volcano is about to erupt! With the impending doom of Bikini Bottom looming close at hand, its residents all have different ideas regarding what to do. Should they evacuate in Plankton and Karen's escape pod, use science to help them, or stay put to try and save their town? The town vote for the escape pod, but can Plankton and Karen be trusted? Of course not! Their pod is actually a ploy to hypnotise everyone into eating at their restaurant so they will become rich! The unsuspecting residents of Bikini Bottom decide to hold a concert to raise money to build the pod, all the while dismissing Sandy's plea's that science can help. She is laughed at and mocked for being a land mammal.


Meanwhile, SpongeBob refuses to simply let his town be destroyed. He teams up with Sandy on a dangerous mission. Can they save the day, or will Bikini Bottom be lost to the volcano forever? With the ever present threat of disaster hanging over the town, it starts to feel awfully familiar, and so a few jokes are thrown in there for the older members of the audience that allow us to relish the shared experience of living with a world facing gloom and dread, including the over stocking of toilet rolls! We see those in charge bumbling around, making promises they can't keep, and telling everyone to stay home and stay safe. Of course, it takes a simple sponge to save the day, not their Government, which at this stage in our own lives is surely worth a try right?


Even if you've never watched a SpongeBob SquarePants cartoon in your life, most will know he lives in a pineapple under the sea and has a best friend who is a starfish called Patrick. But if you don't even know that much, it doesn't matter because this musical doesn't presume anything. Kyle Jarrow has written it for everyone, whether you are a die hard fan or entering this much loved whacky world for the first time. The cartoon first swam onto our TV in 1999 and has developed a bit of a cult following of children and adults ever since. Now, it has swum across the pond from Broadway to set sail on its UK tour, and as SpongeBob himself would say, "Aye aye Captain! I'm ready!"

Patchy the Pirate welcomes us all aboard this family fun show with a little make believe pre "official show" entertainment, before he is hauled out by security for trying to record a pirate version of the performance! This is a great way to build the excitement, engage the audience and settle down the visibly eager children. And they are eager with good reason, for the moment you step into the theatre, you are emersed by the epic stage design of Steve Howells. Firstly, pay attention and you will notice brilliant details that filter through from the set to the costumes of human rubbish that wrongly makes its way into the sea, such as building a volcano out of plastic bottles. The back of the stage represents an old ship with alcoves to house the live musicians throughout.


Digital screens are placed in this piece with constant moving jellyfish and other sea life, creating those details that complete the ambience. The front of the stage housed two more screens, where news reports were continually brought to us regarding the impending doom. Keep your eye on these screens too as they are ever changing and bring some great moments, such as the line up of musicians to appear at the concert, including Cod Stewart, Tuna Turner, Billy Eifish, and The Spice Gills. Simplistic yet effective props are utilised such as giant jellyfish made out of umbrellas and glittery material, which look just fabulous.


Then, of course, there are the characters themselves. I was almost expecting some cutesy over sized dress up costumes akin to those you would find of characters in a theme park, but not at all. Sarah Mercade's costumes allow these much loved characters to come to life symbolically so you know exactly who they are, without ever having to resort to cumbersome attire. Squidwards costume in particular was brilliantly clever, with additional legs sewn to the back of his costume, moving as one with the body.

Lewis Cornay (Book Of Mormon, Whistle Down The Wind) as SpongeBob is completely charismatic and adorable! Funny, charming, quirky, and a belter of a voice, he is everything you'd hope SpongeBob would be! Even more so, because his delight is tangible throughout, particularly when interacting with other cast members and playing around in character. No SpongeBob fan could possibly be disappointed with this performance. Quite the contrary! I think he will have converted a few reluctant adults who had taken their children! Irfan Damani The New Musketeers, Billionaire Boy, Eastenders) plays Patrick with such love that you often want to join him in his own star shaped world and live by his random nuggets of wisdom. After all, life does smell weird! Cornay and Damani make the perfect partnership and steal the hearts of everyone, with both children and adults alike delighting in their comradery.


With star names such as Tom Read Wilson (TV presenter, actor, Celebs Go Dating client co-ordinator, Celebrity Juice) as Squidward and Divina De Campo (RuPaul's Drag Race Chicago, Hedwig & The Angry Itch) as Plankton, SpongeBob drew a beautiful mixed audience of adults and young people who all celebrated joy and friendship together. Each had a solo number, but they couldn't have been more different, and this well rounded musical approach is just one of the successes of this show. Tom Read Wilson as Squidward was finally permitted a full scale jazz hands, tap dancing, showbiz number with "I'm Not A Loser," during which we all burst into rapturous applause for the undeniable joy given to us, whilst Divina De Campo wowed us with her hip hopping beats and an impressively fast delivery with not a single word dropped!


Chrissie Bhima as Sandy and Sarah Freer as Pearl both treated us to powerhouse solo's and the audience quite rightly erupted as their voices reverberated around the entire theatre. Richard James Hunt as Krabs brought an excellent vibe with his comedic faces and wonderful musical number too. In fact, this is an impenetrable and solid cast whose energy is relentless. Some may be on stage more than others, but you engage and watch every one of them with equal amazement at what they are creating. Directed by Tara Overfield Wilkinson, this production certainly brings the essence of SpongeBob to life and spreads the feel good vibes of friendship throughout the entire theatre. A perfect balance has been found of emulating these adored characters without ever caricaturing them to their two-dimensional roots. Add to this the most gloriously showbiz choreography from Fabian Aloise and you'll be floating in a bubble of happiness. Completing the atmosphere is lighting and video design by Ben Bull, which just adds to the delight felt by all.


And the music! Its like the rock n' roll hall of fame got together and created a musical! Steven Tyler and Joe Perry from Aerosmith, Cyndi Lauper, John Legend, Panic At The Disco! Just a few clunking name drops there of artists who have written original songs for this show, and believe me, there are many more too. It is fun guessing which artist wrote which song just from listening to them, and then when the likes of a David Bowie song is also thrown in there for good measure, then it is understandable why a part of this story weaves in a rock concert. No matter what your musical taste, SpongeBob has you covered. Rock, to hip hop, to gospel, to pop, to full scale musical theatre – it's all on offer, and each number only serves to increase your smile bigger than you ever dreamed possible. The opening number sets out it's stall for the serotonin levels and leaves you grinning like the Cheshire cat, and you never really stop! And yes, you will get a huge burst of the beloved theme song too right at the end, so fear not.


Blacked out scenes allow for fluorescent sponges to float and be choreographed into SpongeBobs epic solo of "Just A Simple Sponge." Physical humour paves the way for a giggley vibe with daft humour such as night falls (you'll have to watch it to get the joke, I'll say no more here). The band break out of their usual separated stalls to become a part of the cast – rock n' roll! Sound effects are created on stage in front of us, and really remind us of the shows cartoon roots, with noises for Krabs and Planktons walk, and visible voice overs for Gary the snail. The list of reasons to love this show is endless and I genuinely loved it so much that I immediately booked tickets to go and watch it again later in the week! So does SpongeBob The Musical work? YES!!!!!!!!!! It is a splashing show full of joy, cracking jokes that will have you belly laughing, expertly delivered visual, slapstick comedy, incredible songs, and all the showbiz glamour of a family musical. It is a beauty of a show that finds sanity in the insanity and will have you ringing out forever more, without any care to your street cred – "Who lives in a pineapple under the sea? SpongeBob SquarePants!"


WE SCORE THE SPONGEBOB MUSICAL...




Watch our "In Conversation with Richard J Hunt" video discussing the show



Other events you may like...
Most Popular Shows and Events in London