Neighbours - The Celebration Tour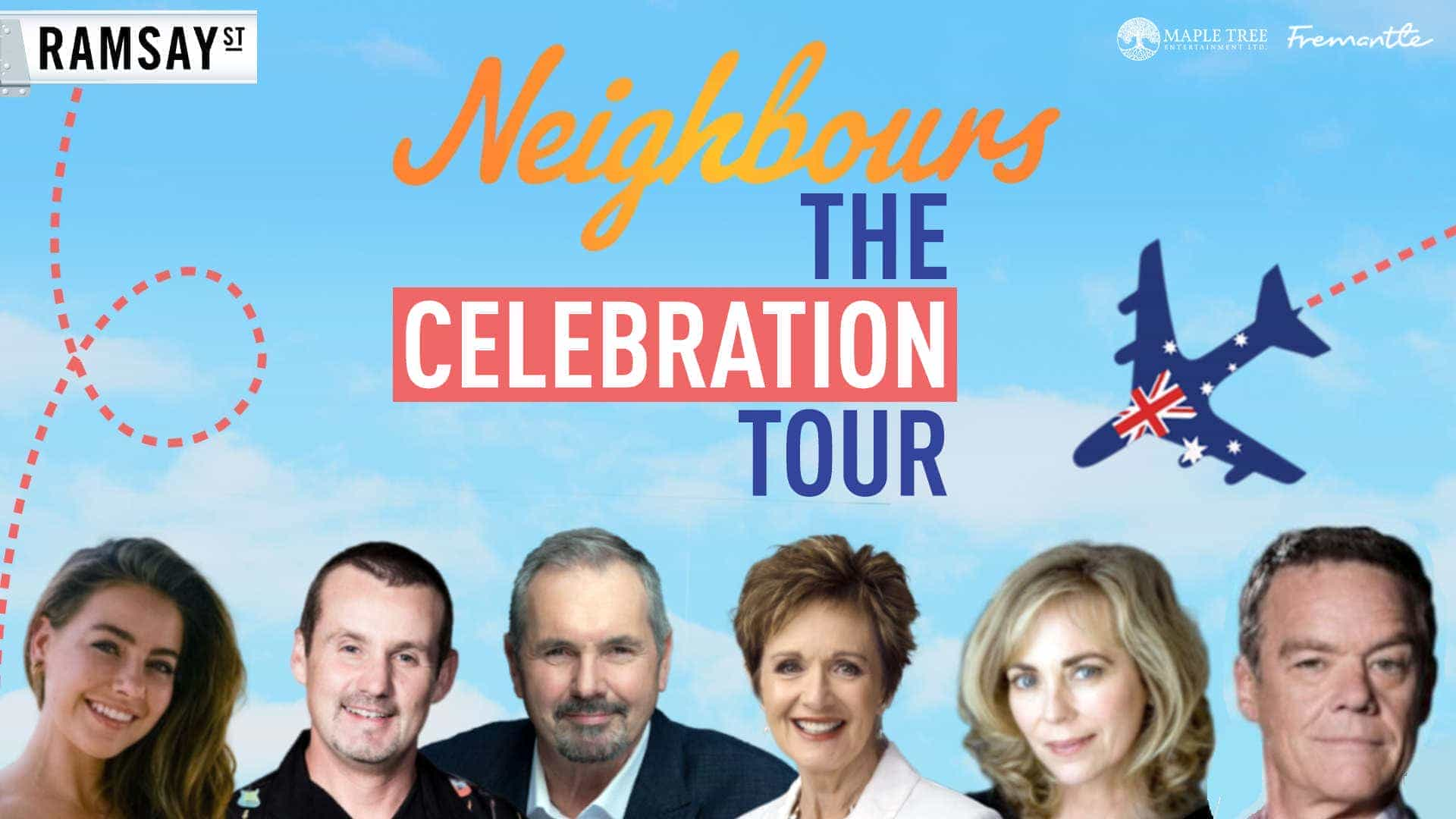 It's time to celebrate the fantastic news that Neighbours isn't saying farewell afterall, as it is returning to our screens in 2023. Originally titled "Neighbours - The Farewell Tour", it has now been renamed, "Neighbours - The Celebration Tour".

Karl (Alan Fletcher), Susan (Jackie Woodburne), Paul (Stefan Dennis), Toadie (Ryan Moloney), Jane (Annie Jones) and Chloe (April Rose Pengilly) are all confirmed to appear, making all the die-hard fans, very happy!

This will be the ultimate celebration of all things Ramsay Street. Maple Tree Entertainment in collaboration with Fremantle Australia will be flying over some of the biggest and best names from the show all the way from the other side of the globe.

This celebration will give Neighbours fans a chance to reminisce on your favourite Erinsborough moments from across the last 37 years. Join us as we look back at some of the footage from across the years, enjoy never before heard stories from the cast as they are interviewed live on the stage, plus surprises and a Q&A session at the end. This will be the ultimate night for any Neighbours fan - and the perfect way to say 'farewell' to one of Britain's most-loved soaps.

Hosted by Leah Boleto

Neighbours - The Celebration Tour Tickets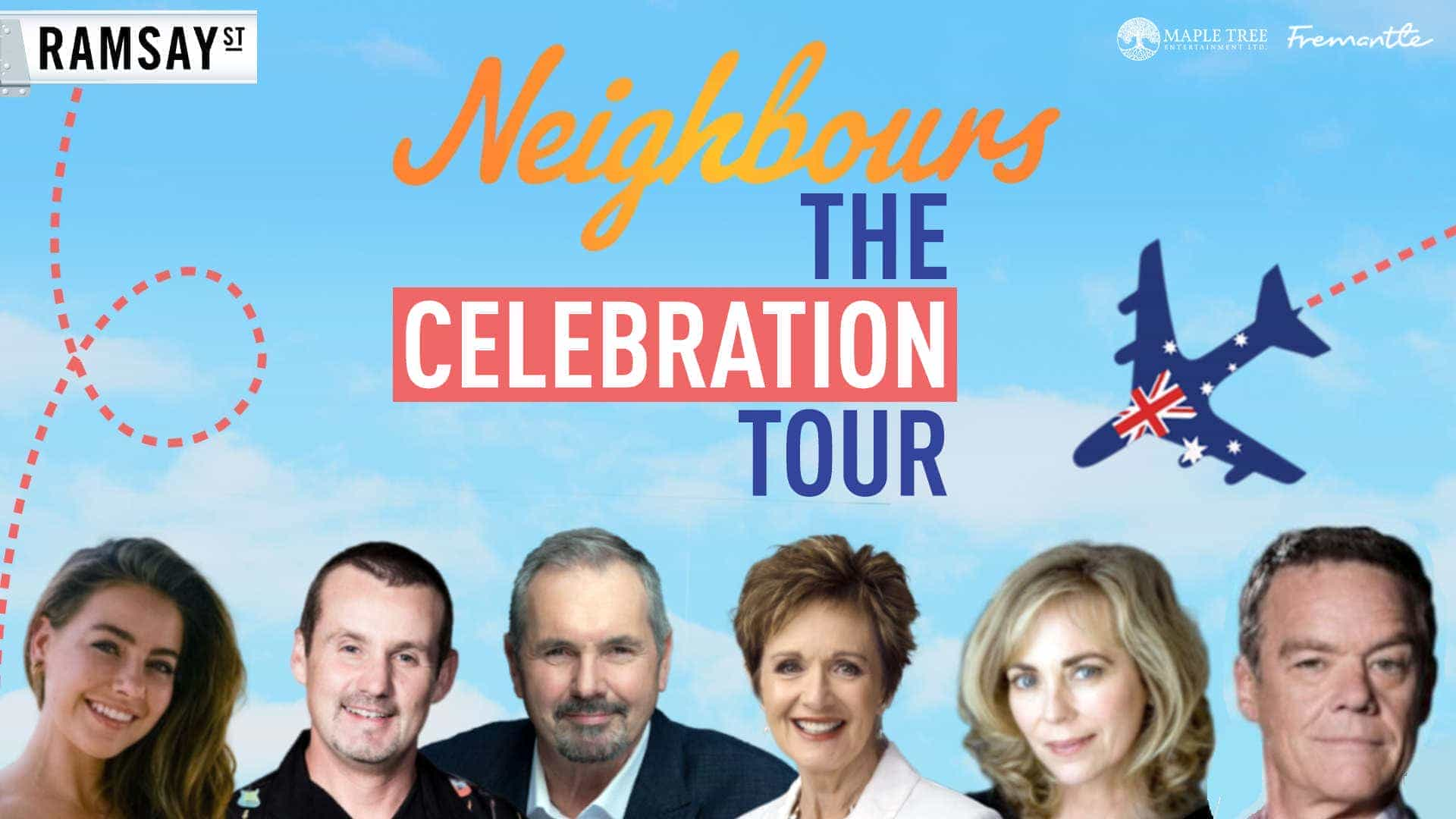 Sorry, there are no tickets for Neighbours - The Celebration Tour in London available at the moment. This maybe due to one of the following reasons:
- Neighbours - The Celebration Tour in London tickets are currently not on sale.
- The event has sold out.
- Details have not yet been announced for Neighbours - The Celebration Tour in London.
- The event may have been cancelled.
- The event has been and gone.
Join our free mailing list for
updates about this event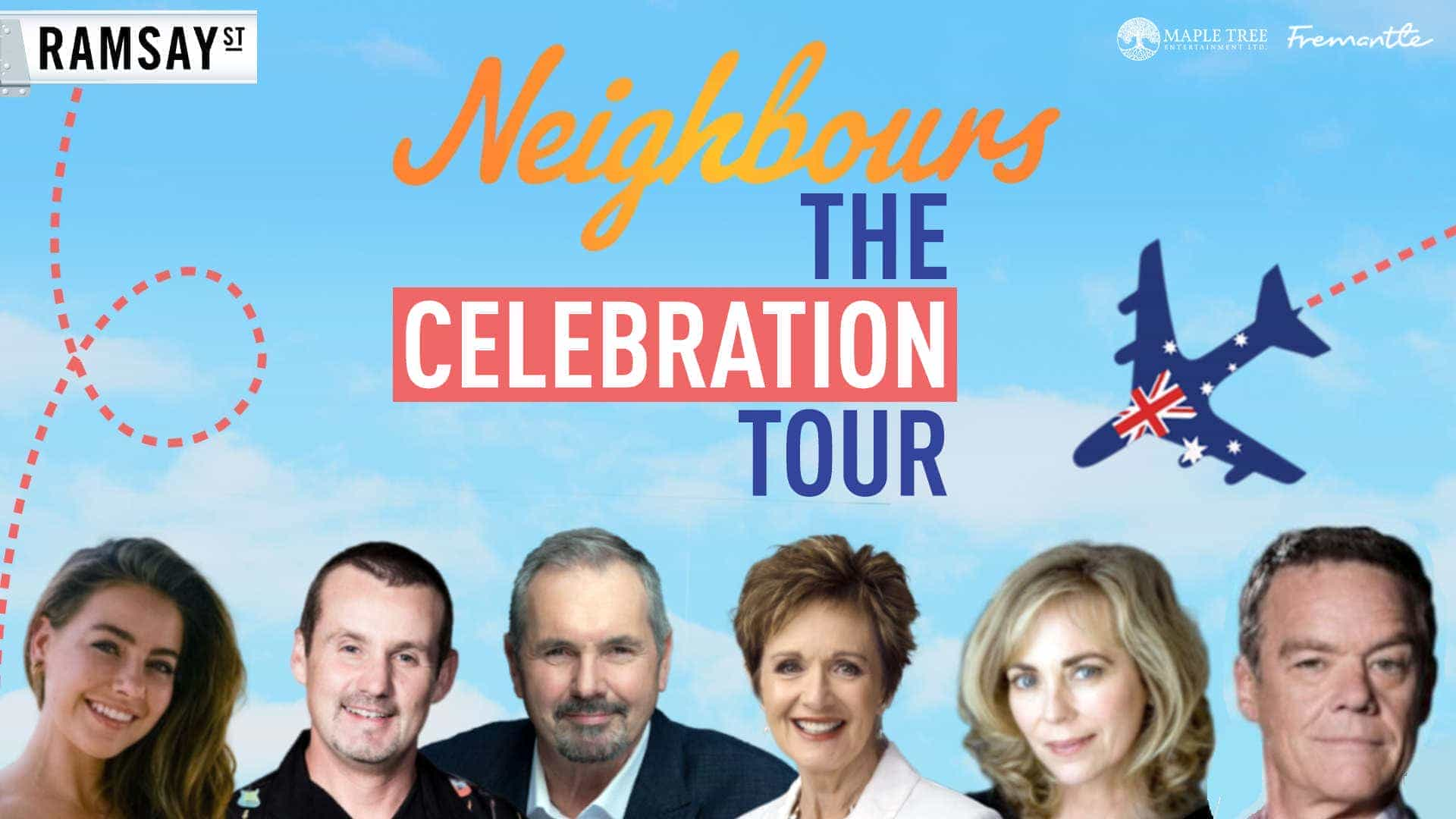 Neighbours - The Celebration Tour ON TOUR
Our review on Neighbours - The Celebration Tour
Neighbours - The Celebration Tour - The Bridgewater Hall - Friday 3rd March 2023 by Robert Jones
Our Rating
NEIGHBOURS THE CELEBRATION TOUR REWARDS THE FANS WITH THE PERFECT BLEND OF LAUGHTER, TEARS AND A NIGHT YOU'LL NEVER FORGET!

Everyone in the UK knows the Aussie TV series, Neighbours, whether it's remembering running back from school to join the other 20 million viewers glued to the small screen as Charlene said, "I do" to Scott, or if like me, you're a proper die-hard who has never missed an episode. It's true, I've watched every single one, all 8903 of them. If you think that's sad, then I suggest you stop reading and "rack off" as this review isn't for you!

My love for Neighbours started from the beginning when it first aired in the UK in October 1986, when I was an 9 year old boy, who like many, fell in love with the bright skies of Oz and welcomed Granny Helen and co into our family homes. They became our daily fix. We craved the 23 minutes of sheer joy and escapism from the grim Manchester weather and anything to avoid doing our school homework.



Fast forward to 2023, that 9 year old boy is now a 45 year old family man, and the passion for Erinsborough (and by the way, if you didn't know already, is an anagram of Neighbours) has never died. It's not just a TV show for me, it is so much more. It gave me the thirst to travel and obviously the ultimate goal was to get to Australia. In 2003, my dream came true and I did the whole year away backpacking, living in Sydney for six months, and touring the whole country for the last half of the year. Of course, I had to visit to Ramsay Street. I'm certainly not a religious man like Harold Bishop, but the day I stood in the middle of that cul-de-sac on Pin Oak Court, I nearly cried. I had arrived at my Mecca, my holy ground, in fact, spread my ashes already across Mrs Mangel's lawn, I had finally made it!

I filled my boots and went on the Neighbours tour, a couple of Neighbours nights where I mingled with some of the cast, and even bumped into some previous characters on my travels - Todd Landers was my tour guide as I climbed the Sydney Harbour Bridge, and Rick Alessi was the door man in a bar in Alice Springs, I was shocked to discover. I've never been so pleased to meet a bouncer (sadly I never got the chance to meet the canine one!)



10 years later in 2013, I did it all again returning to Australia with my Polish girlfriend (now my wife and now also a Neighbours nut), back to Ramsay Street, tour, etc. My happy place!

So when I heard Neighbours would be touring and coming to my home city, I was more excited than Karl and Susan opening up their blue box. It would cushion the blow a little of the devastating news that Neighbours was actually ending after 38 years. It was like losing a loved one hearing that my favourite show was coming to an end. The shockwaves throughout the fans was genuine. Cast members felt our pain and we grieved as one. However, like all good soaps, there's been the ultimate dramatic twist, as just over 100 days of mourning, we discovered the news that Neighbours had been rescued by Amazon and it was just a bad dream after all (sadly not the good type like Bouncer had).





So tonight was the night, myself and my wife, would be reunited with Dr Karl. We met Alan Fletcher in Melbourne a decade ago, and he has filmed many video messages we've treasured like the announcement of our first born. Fletch is one fantastic guy (even if he does supports Liverpool). The Meet and Greet before the show would also allow me to be reunited with one of my favourite characters, Toadie who I last met 20 years ago in St Kilda during a very rowdy Neighbours night! I have to admit though, getting to meet Paul Robinson, would mean my bucket list was one tick lighter – he makes the show – a favourite in our family home and I'm sure thousands of others. Of course, not forgetting Susan, Jane and Chloe – three beautiful ladies who would complete the dream team.

If you're lucky enough to have a "Meet and Greet" ticket, you receive a cool Ramsay Street sign and a poster signed by the six members. Dr Karl will also pen your name on it to make it personalised. Pass your phone or camera to a member of staff and they'll take loads of great photos. You'll meet the stars in two groups of three (as you can see in the photos in this review!) Don't be nervous! All six celebs are amazing allowing hugs, handshakes and such a warm chat with all of them. They did over 5 hours of "Meet and Greets" today but they still looked so fresh and treated every fan like it was their first photo of the day. Trust me, this didn't go unnoticed by everyone queuing. In fact, due to the length of time they spent with each member of the public, the show started 20 minutes late. I wasn't grumbling as I was one of the lucky ones who had the close up and personal treatment.





So on to the big event itself. The Bridgewater Hall was full and as great as Belfast must have been on the opening night, Manchester was taking it up a notch.

Leah Boleto had the challenge of hosting the show and I'm going to sing her praises immediately. She was brilliant. As she clearly is a Neighbours super fan as everything came natural to her and she truly represented the fans. Because she spoke from the heart, I think by the third or fourth night, Leah might as well throw away the cards she held. She didn't need them (although I know she'll treasure them as a keepsake in years to come). Clearly she was just as excited to be here, as much as the audience couldn't wait to see the first cast member enter the stage.

Over the next hour, Leah would host the ultimate Neighbours party. First guest was the legend, Toadie (Ryan Moloney). Like all good parties, the big character has to be there from the start – the soul of the gathering, the joker of the pack, the true Aussie. Who doesn't love Jarrod Rebecchi? We've seen the class clown grow into a fantastic father and Lawman over nearly three decades. From getting his "dead rat" ponytail chopped off to the heart breaking full length episode of losing his wife, Sonya to cancer, it has felt like we've all adopted the Toadfish and been with him all the way.



Next to join in with the fun, enter Dr Karl (Alan Fletcher). If anyone was to bring the cheese and biscuits to the buffet, it had to be KK. We all adore his enthusiasm and passion. He knows how to get the crowd going. As Toadie cheekily joked, "Fletch is available for all birthdays and weddings!" Naturally the conversation turns to how he cheated on Susan (a number of times) and many more Karl stories follow. Free as a river, Fletch introduces his on-screen wife on to stage in his own unique way (I won't spoil it for you) and suddenly this party is kickin'!

Jackie Woodburne is a Neighbours favourite with fans. She's loved beyond words and it's clear to see by the shock on her face and tears in her eyes within seconds of entering the stage, how adored she is. She's the Queen of Ramsay Street and how Manchester embraced her royal presence. Something that always makes the fans sit up is hearing the Irish twang in Jackie's voice. She hides it so well as Susan, but when talking in interviews, her Irish roots are clearly on display. Such a beautiful voice too. She's so underrated as an actress. Of course, like Laurel and Hardy or Morecambe and Wise, there wouldn't be Karl without Susan – their partnership on screen is as strong as any. As Eddie Redmayne described them, "the greatest unsung acting duo in history" – we echo your words Eddie! Jackie and Alan's love for their characters, each other as friends and actors, and of course, the show itself, are shared all night with the audience. Being sat on the front row right in front of them made the experience even more special for me. I felt like they had invited me round for a brew at number 28 and I was sat with my feet up on their settee admiring the family portrait of Malcolm, Billy and Libby.





The first three members of the dream team, left the stage, (or retired to the kitchen in my fictional party to grab another drink), allowing for a relaxing moment to follow, and for me one of my highlights. Jane Harris (played by Annie Jones) entered the stage and for the next 10 minutes or so, it was just Leah and Annie talking. Annie appears the quieter cast member and because of her chilled out style, I felt like I was eaves dropping on a girlie chat with coffee and cake at Harold's. Annie admitted that she has a lot of similarities to her character, Jane. It was lovely listening to her stories about the show. Very relaxing as if I was listening to Nanci Griffith on a Sunday afternoon at a folk festival. The fans are so pleased knowing Plain Jane Superbrain is returning to Ramsay Street.

Suddenly the Bridgewater Hall was turned into a Paris catwalk as Chloe (April Rose Pengilly) enters the stage. We all know she's stunning (and in real life, even more so) as the Chlojitos are now flowing nicely as the Belle of the ball has arrived (stunning dress by the way!) April is the closest actress Neighbours now has to Margot Robbie. Not just a beautiful woman, but a fantastic actress too. Chloe has had some challenging story lines over the years and hopefully returns regularly when it reboots later this year. April shared her memories with us all and it's clear to see that she's still hurting from when the show originally got axed. Who wouldn't be miffed by finding out the same day as the fans that it was the end of the line? April proudly has regularly let the fans see behind the scenes, another reason why she is so popular with viewers. When her name was announced that she'd be on the tour, the excitement online that day was immense. So glad to see April as part of this tour. She bridges the gap nicely with the older cast, meaning anyone in the audience who didn't watch in the 80's, can relate more with Chloe and the more recent generation on Neighbours.



Last but not least, here comes the final guest to the gathering – Mr Paul Robinson, a.k.a Stefan Dennis. Now the party can really start. We absolutely love Moneybags. What a fantastic bloke too. When I shook his hand tonight, I told him, "I can now die a happy man!" and I meant it! Neighbours just wouldn't be the same without him. Whether he's marrying for the 6th time or fighting for his life during another epic storyline, Paul is a major reason we follow the show. As for Stefan, he looks nothing like his alter-ego. In fact, one lady said to me tonight, "Paul scrubs up well!" Naturally, I had to wittingly reply, "Does he make you feel good?" Well, Stefan, you made the whole room feel good with your warm personality, honest and amusing tales, and we salute you for your amazing portrayal of one of the best TV baddies ever to grace our screens. We can't wait to see what the next chapter has to offer? I'd love to see SIX the Neighbours Musical. Forget Henry VIII's wives, I wanted a Broadway written about Mr Robinson's exes.



After the interval, all 6 actors plus host, sat on the stage for more reflecting, discussion, looking back at the ones we've lost, a bloopers video and Q&A's (you can email during the show any questions you may want to ask and if you are lucky enough, it'll be read out in the second half). What I liked about this evening was that the actors delved deeper and showed their true emotions live on stage. All of them cried a one point when the spotlight was on them which spread to the audience. It was a very emotional event. Thank goodness we all know Neighbours is now returning as the original penned "Farewell Tour" would have floored most of us. We would have needed weeks of therapy to heal the wounds again.

It truly was the ultimate fan experience and not some cheesy greatest hits. They could have easily shoved a 3 minute video on and said "Remember this?" but when video was used, it was just background material to complement what the actors were saying. They could have easily waffled on about Scott and Charlene's wedding but that would have been too predictable. 120 minutes of superb entertainment was loved by a full house at the Bridgewater Hall. They are returning again on Monday for a second helping and Manchester will be still buzzing from tonight. If you are a big Neighbours fan, do your best to get a ticket for the tour, even if it means travelling to another city. Trust me, it's worth your time, money and effort. I wish I could do it all again!

The event ends perfectly. Obviously I'm not going to ruin it by saying how the evening is concluded, but what I witnessed tonight was special. The fans and actors shared something special together and the love for Neighbours will clearly never die. As episode 9000 is the next landmark, who knows how many more will follow? (Only John Wong knows that answer!) All I know is tonight was the perfect celebration of what Neighbours has given us so far. We raise our glasses to celebrate. See you all at the Waterhole to continue the party! Just tell the bar staff, Mr Robinson is paying for the first round!


WE SCORE NEIGHBOURS - THE CELEBRATION TOUR...


Five stars aren't enough. I want to give a star to all 7 stars on stage!



Other events you may like...
Most Popular Shows and Events in London