Lemons Lemons Lemons Lemons Lemons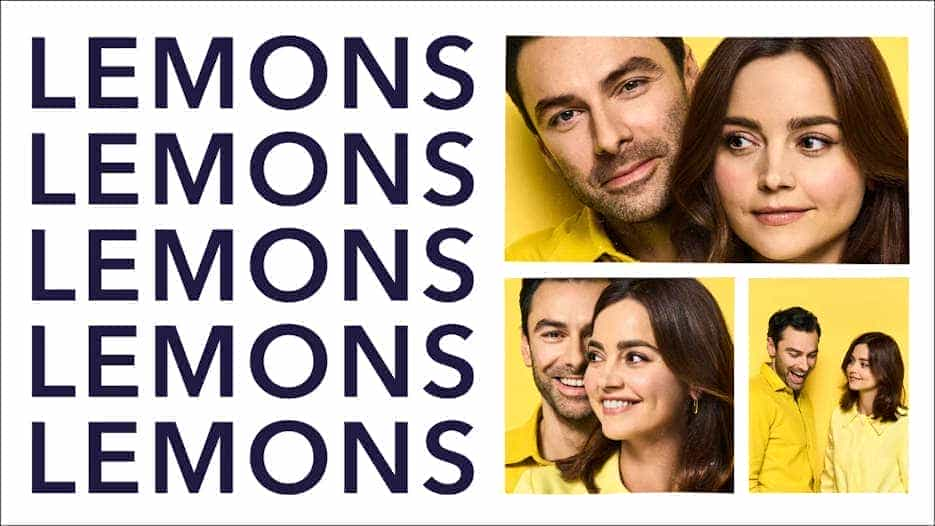 You're going to speak more than 123 million words in your lifetime. What will you do when they run out?

Lemons Lemons Lemons Lemons Lemons is a tender and funny rom-com about what we say, how we say it, and what happens when we can't say anything anymore.

Starring Jenna Coleman (The Serpent, All My Sons) and Aidan Turner (Poldark, The Lieutenant of Inishmore), this bold and brilliant play from Sam Steiner (Fingernails, You Stupid Darkness!) is directed by Josie Rourke (Mary Queen of Scots, As You Like It).
Watch our interview with Josie Rourke, the director of Lemons Lemons Lemons Lemons Lemons starring Jenna Coleman and Aidan Turner.
Photo Credits - Johan Persson
Lemons Lemons Lemons Lemons Lemons Tickets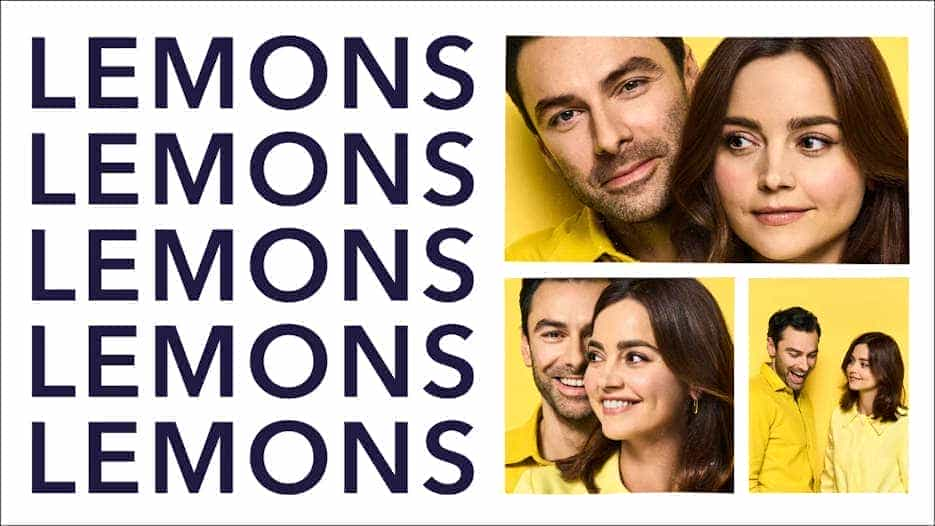 Sorry, there are no tickets for Lemons Lemons Lemons Lemons Lemons in London available at the moment. This maybe due to one of the following reasons:
- Lemons Lemons Lemons Lemons Lemons in London tickets are currently not on sale.
- The event has sold out.
- Details have not yet been announced for Lemons Lemons Lemons Lemons Lemons in London.
- The event may have been cancelled.
- The event has been and gone.
Join our free mailing list for
updates about this event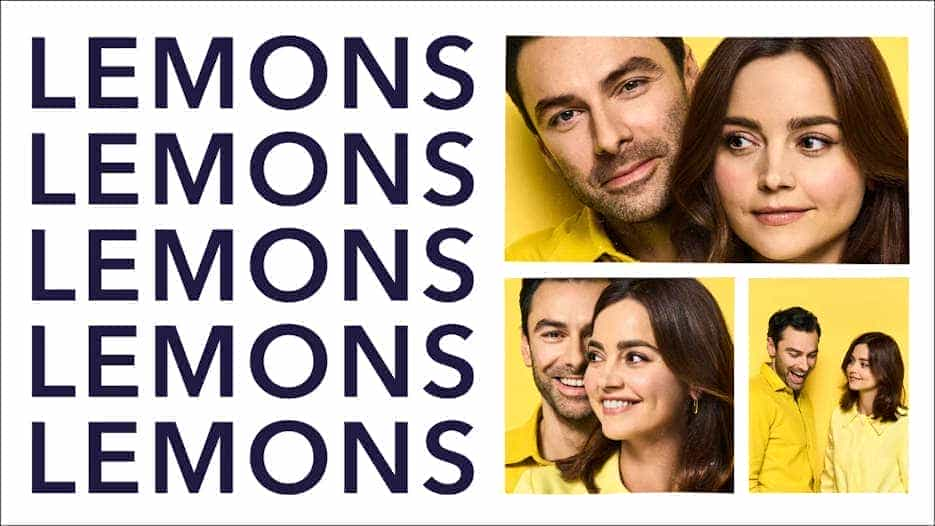 Lemons Lemons Lemons Lemons Lemons ON TOUR
Our review on Lemons Lemons Lemons Lemons Lemons
Lemons Lemons Lemons Lemons Lemons - Opera House, Manchester - Tuesday 21st March 2023 by Karen Ryder
Our Rating
LEMONS LEMONS LEMONS LEMONS LEMONS IS A FUNNY, MOVING, ENGAGING AND POIGNANT REFLECTION ON HUMANITY IN THE FACE OF ADVERSITY AND LOVE


Many people would break out in hives at the mere thought of being limited by the amount of words they are allowed to speak in a day, and when you discover that the average person speaks more than 123 million words in their lifetime, you might as well throw in a panic attack or two as well! Well, this is exactly what Lemons Lemons Lemons Lemons Lemons does (not the panic attack bit). It constructs a world where you are limited to 140 words a day and examines how we communicate when our words run out. A huge Fringe hit in 2015, award winning director Josie Rourke has revived the brilliant Sam Steiner play with the wow factor casting of Jenna Coleman and Aiden Turner. There has been quite the buzz in Manchester for some time now over the arrival of this production and ironically, people haven't been able to stop talking about it. But if we were limited to 140 words a day, the question is, could we say more by saying less?


Lawyer Bernadette and musician Oliver are trying to navigate that very question. Following their cute meet at a pet cemetery, love blossoms and everything is hunky dory. That is until the hush law gains power and is ultimately passed. These opposing characters not only have to figure out the usual relationship stuff but also find a way to handle their different emotive and political reactions to the law itself. Both arguably rely on words in their chosen careers, so how many of their rationed word limit will they use at work, and how many will they save for each other at home? And if their agreement is broken, what are the implications towards each other? Does it feel like cheating?


Bernadette is from a working-class background, matter of fact, and calm and so whilst she doesn't like the law, she accepts it does have potential and that it should be followed because, well – it's the law. Oliver on the other hand comes from a background of money, makes his own rules, is carefree, imaginative and has a 'stick it to the man' approach to the law. Still, it's ok because opposites attract right? But how will this couple survive their opposing views at the infliction of a law that seems to make no sense and is given no real explanation?


After the initial shock, life is quite exciting, finding new ways to live within this new world. Words are condensed, sentences reduced to a kind of shorthand text talk, a form of charades is implemented, morse code is learnt, and it becomes the perfect way to avoid any conversation you don't actually want to have! A new language and way of communicating starts to emerge and it's like the honeymoon period. We all experienced it ourselves with the first lockdown. We didn't like it, we had opposing views either for or against it, but we were jovial and made the best of it, clapping the NHS, painting rainbows and baking banana bread. But then the second lockdown came, and the glitter wore off.


This quick paced two-hander, plays with time as much as it does its word count, flipping us into flashbacks and flashforwards and throwing the idea of liner out of the window. It is a stunning way of contrasting Bernadette and Olivers relationship before and after the hush law, and being emotionally drawn into how this outside governing force has impacted and altered their personal lives and their connection with each other. We feel involved, we root for them. We were there when they met, when they fell in love, when they moved in together, and now when they have to face some of the biggest decisions of their lives. Niggling resentments and insecurities surface during these unprecedented times, such as Oliver struggling with Bernadette's high paid career, whilst Bernadette feels threatened by an ex-girlfriend.


Set against a curving landscape of compartmentalised items, the main stage is left free and utilised beautifully. Words are limited, space is limited. Communication opens up, space opens up. The backdrop itself is full of detail and intriguing objects such as tyres, work tools, jugs, files, vases, shoes, plates, glasses, rubbish bags, a car bumper and headlights, mostly monochrome, with just a splash of colour. It seems to depict their life together, separate, yet accumulative. Created by Robert Jones, it has a wonderful abstract vibe that matches the theme of fusing liberation and limitation. Different elements are lit up to suggest location, such as lamps and a bedhead for the bedroom. As their word count is stripped back, so too is the scenery, rolling away to be replaced by something new. Aideen Malone guides us through the pre law and post law scenes with her intrinsically clever lighting design distinguishing the eras via warm welcoming lights clashing against a stark strip light. This really helps keep track of the ever-rotating time line. A clock lights up to indicate the pressure of that first day into the new law, and jets of light shoot around the backdrop.


Josie Rourke (BAFTA and Oscar nominated Mary Queen Of Scots, The Donmar, The National) has taken a fringe play that started its roots in a small confined space, and has brought it to the big stage, without ever losing any intimacy. She has embraced the script to its full potential, showcasing her talented actors and providing a masterclass in stripped back, grass roots naturalistic acting. No props, scenery, and even words are needed to understand the tensions, the frustrations, the emotive internal tornados of these layered characters. With Rourke's direction, Jenna Coleman (The Serpant, Dr. Who, Victoria) and Aiden Turner (Poldark, The Suspect, The Lieutenant Of Inishmore) are able to not only sit comfortable with silence themselves but make an entire audience comfortable with it too and hold that audience in the palm of their hand. You could hear a pin drop! Together, Coleman and Turner are utterly charming. They depict romance and love with an adorable and natural ease, creating a warm fuzzy glow in the theatre. However, when their relationship is tested, they create a palpable tension and static friction. As words become limited, their use of body language and nonverbal communication is something to behold, with every intention, every nuance being crystal clear. Coleman is fierce yet tender and moving. Turner is charismatic and confident, yet equally vulnerable. They have both created real, complex, pandora's box, self-contradicting people, and it is why the audience left feeling like these are people we know. They play comedy, romance, heartache, and conflict, all within this one act play and it is one heck of a tangy slice they serve up!


Of course, none of this would be possible without this unique and intriguing idea written by Sam Steiner. Despite the way we can resonate with the idea of questionable laws being passed over night and the discord they can cause with the very people you thought you knew and understood, Lemons Lemons Lemons Lemons Lemons was unbelievably written in an era when we still thought Corona was nothing more than a beer! It presents some fascinating ideas, particularly the power of words and the different ways in which they can be used to heal, wound and scar. Words can be misleading, can conceal truths, so a lack of them can equally speak volumes. How much of what we say matters versus what we actually do and show? It is an idea that has so much scope and I for one would love Steiner to explore this world of the hush law with additional plays.


There are so many moments to enjoy during Lemons Lemons Lemons Lemons Lemons. A particular favourite was Total Eclipse Of The Heart as Bernadette and Oliver manage to mix love, companionship, humour and loss into one simple scene. Or when Bernadette sings Peter Kay DJ style, it is endearing and so recognisable. I loved the audible gasp during one moment of the play upon hearing a revelation from Oliver – a true sign that the audience were completely hooked into these characters. A favourite speech was the hilarious comparison of different relationships to cheese graters, and of course we can't forget Dennis the cat, may he rest in peace. But I truly loved the examination of communication in all its glorious forms, and noting how the expression of love is far more powerful than simply saying those three words. Also, (and I am so very guilty of this) saying far too many words in a deft attempt to hide what we are truly feeling as a means of protective armour. Steiner understands language. And when all else has failed and we don't know what else to say, we can shout out with every fibre of our being Lemons Lemons Lemons Lemons Lemons!


This play is indeed the romcom it is highlighted as, but with the cheeky option of a political interpretation for those who wish to view it as such. It leaves you with questions about the story, the characters, and how succinct we ultimately express ourselves. I have no doubt that everyone will go home thinking about their word usage, what they would do, and how they would use their 140 words. Would less words make our relationships weaker or stronger? Lemons Lemons Lemons Lemons Lemons is a funny, moving, engaging, and poignant reflection on humanity in the face of adversity and love. I also believe it is the perfect platform to open up the debate regarding the currency and power of words. They are everywhere, more now than ever. Opinions, trolls, social media, politicians. Words can be beautiful and make us feel safe, but they can also manipulate and wound. For many, particularly those who suffer at the hands of online or verbal abuse or bullying, a word limit may be welcomed. Sam Steiners play would be a great addition to any teenage classroom or workplace wishing to tackle such subjects. Lemons Lemons Lemons Lemons Lemons highlights that when you're forced to say less, it makes you consider what you say, and how you say it. It examines how silence, expression, eye contact and body language are powerful tools of communication. Plus, it has Jenna Coleman and Aiden Turner! I mean, come on! What more could you want?!
WE SCORE LEMONS LEMONS LEMONS LEMONS LEMONS...


Other events you may like...
Most Popular Shows and Events in London