Mother Goose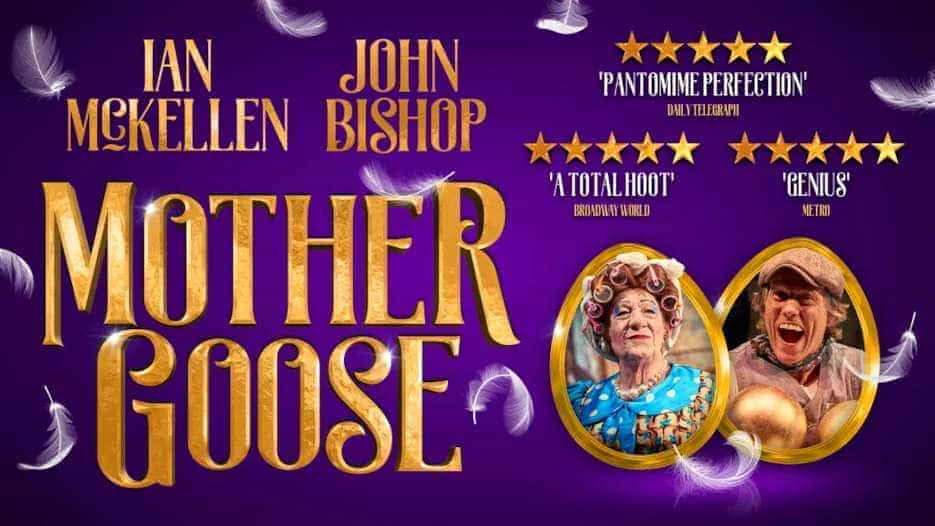 Legendary Lancashire actor Sir Ian McKellen and Liverpool comedian John Bishop star in the MOTHER of all pantos, from the imaginations of Jonathan Harvey (Coronation Street, Gimme, Gimme, Gimme) and Cal McCrystal ("Britain's funniest director" - Guardian).
Running an Animal Sanctuary for waifs and strays, Mother Goose (McKellen) and her husband Vic (Bishop) live a wholesome life inside an abandoned Debenhams. But when a magical goose comes a-knocking, will fame & fortune get the better of them?!

Will Ma's feathers get ruffled? Will Pa tell everyone to get stuffed?! And is their humble life about to turn fowl? Get ready for fairies with hefty vocal chords, puppets with tap dance qualifications and impeckably constructed mayhem that will quack up the whole family.
Watch our interview with Anna-Jane Casey who stars in Mother Goose with Sir Ian McKellen and John Bishop.
Mother Goose Tickets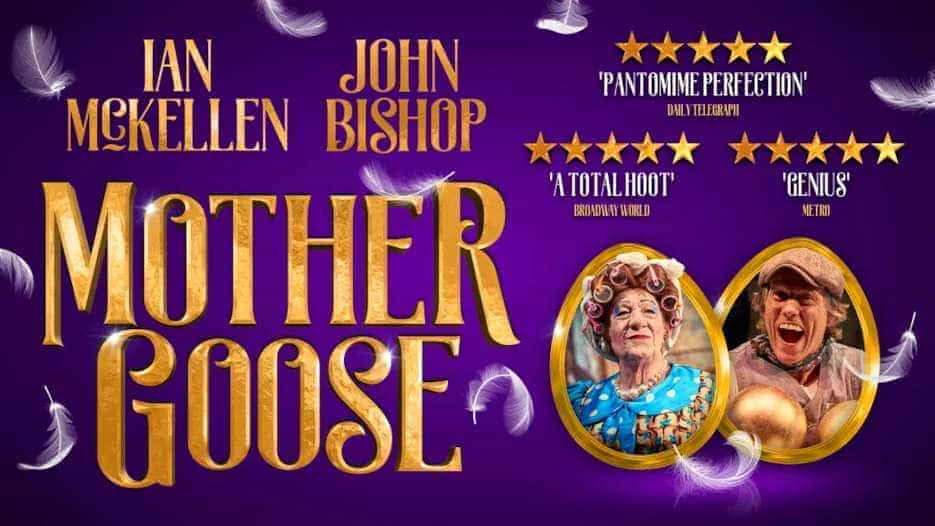 Sorry, there are no tickets for Mother Goose in London available at the moment. This maybe due to one of the following reasons:
- Mother Goose in London tickets are currently not on sale.
- The event has sold out.
- Details have not yet been announced for Mother Goose in London.
- The event may have been cancelled.
- The event has been and gone.
Join our free mailing list for
updates about this event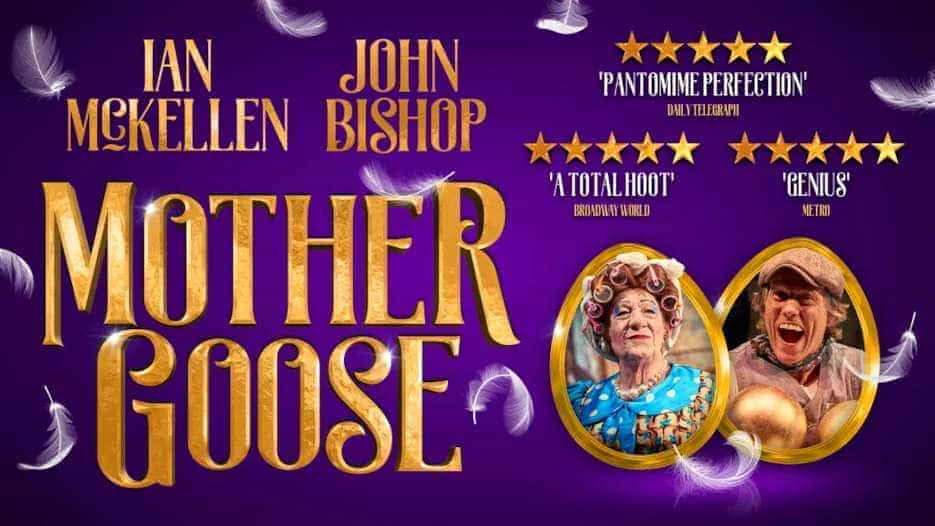 Our review on Mother Goose
Mother Goose - The Lowry, Salford - Wednesday 5th April 2023 by Karen Ryder
Our Rating
MOTHER GOOSE IS THE PANTO EQUIVALENT OF HAMILTON - YOU'LL BE QUACKERS TO MISS IT!


Unleash all your egg puns and free those bird jokes, for Mother Goose has finally flown into Salford, just in time for Easter! Led by a star-studded cast, we've been waiting for this one for quite some time, and with three Northerners at the helm, it makes the arrival all the more special! I mean, come on! Sir Ian McKellen, John Bishop, and Anna-Jane Casey! How spoilt are we?! A combined trio of talent, they have everything covered from acting, comedy, singing, and dancing, and with Golden Globes, Tonys, TMA's and British Comedy Awards rattling around in their luggage amongst their panto bloomers, it's no wonder that tickets are selling like hot cross buns! But don't be bamboozled into thinking this is a delayed April Fools trick and refuse to buy tickets, for the joke would be on you my friend. You haven't misunderstood, it is most definitely panto season in April! And thanks to Sir Ian himself, this project has quite literally taken flight and brought the good old days of the all year panto back into our chaotic 2023 lives just when it is most needed. It's already had rave reviews and now it's our turn to welcome our Northern souls back home.

This version of Mother Goose may be slightly more, well – bonkers, than any you've come across before, but in all the right ways! The Goose family (Caroline, Vic, and son Jack) and their animal sanctuary have fallen on hard times during this cost of living crisis, and haven't got a pot to pickle in. Living in an abandoned Debenhams, they can't afford to pay their energy bills and have no idea what they are going to do. As it thankfully turns out, there is a goose, albeit a menopausal one, who lays golden eggs. As Cilla Quack starts to pop out the aforementioned eggs, Mother Goose Caroline has to make a difficult decision – fame, or family and friends. Well, there wouldn't be much of a story if she chose family, and so as the lights bedazzle, we are transported by the magic of panto to The Tower Of London, The Oscars, London fashion week, and even the World cup final as she lives out her dream! But dreams often come at a cost, and as Caroline eventually sees the error of her ways, we enter the mystique and mayhem of Gooseland where things start to get next level surreal and quackers, for this ethereal kingdom is charged by the most demanding, drama queen Goose ever imagined! Will the Goose family convince King Goose to let Cilla Quack free? Will Jack ever tell Jill just how much he loves her? And will we get a happy ever after wedding? It's panto! Of course we will! Just maybe not the wedding you were expecting!



The show starts with John Bishop unassumingly walking onto the stage. The audience go wild with applause and genuine affection. He starts to tell us what to expect, where we should shout out, and the general rules of panto, but it is all done in John Bishop style, disguised in a hilarious stand-up routine. Next, the good and bad fairy twirl onto the stage and immediately set the scene for what is to be an unpredictable, manic, and brilliantly ludicrous show, with mistimed whips and laughter that blend into a show stopping number as we are introduced to the animals in Mother Goose's animal sanctuary. Then Sir Ian walks onto stage and the place erupts! The show could have ended there for many and they would have gone home happy, with enough joy garnered from basking in his mere presence. But he humbly cracks on with it, showing he is just one member of an outstanding cast.



Anna-Jane Casey enters with a series of splits, and we are on our way! As for the rest of the show……….I mean, I'll try to tell you about it, but you may not believe me. It will sound so random and absurd that you'll think I'm making it up. And whilst I would love to steal the credit from writer Jonathan Harvey (Gimme Gimme Gimme, At Home With The Braithwaites, Coronation Street) I couldn't keep up with the speed of his wit and innuendo. Political prods are very popular with tonights audience, with a bumbling pig named Boris, Camilla Queen Consort as a house guest, Cruella Braverman telling the animals there is no place for them, and an entire audience interaction response based around our energy bills. Sprinkle in adult humour that washes over the heads of the younger audience, inflatable footballs, sweets being launched into the audience (where I saw one genius child take his booster seat, turn it upside down, and hold it above his head to catch the airborne sweets on mass in the hollowed-out seat!), and you still haven't come close to the zaniness of this show. Puppets nestle in the show alongside Shakespeare monologues and sonnets, huge musical theatre numbers shake jazz hands with 90's electro house music and 80's fist pumping love ballads, whilst bats, monkeys, llamas and God worshipping penguins seem about the sanest thing on the stage! It's creatively quackers so my advice is just let yourself be whisked away, and eggspect to laugh until your eyes leak!



Sir Ian McKellen (Lord Of The Rings, X Men, Coronation Street, King Lear and a billion other things)……….can I just say that again – Sir Ian McKellen indulges us with his humour, his singing, his dancing, his Gandalf moments, and his Shakespeare. His generosity is illuminating throughout, and the cast clearly adore him as much as the audience do. As Mother Goose, he gets to wear some belting costumes, including a ginormous hat made out of hair, a beefeater dress and a frou -frou nightie. He slides from silly to sublime to serious in the blink of an eye, and his delivery of "Quality Of Mercy" from The Merchant Of Venice was a bucket list moment to witness. It felt the entire audience collectively held their breath and you could hear a pin drop. The command and respect he has is palpable. He could have milked it, but he didn't for the next second, he is tap dancing, giggling like a school girl at some cheeky innuendo, and sharing the stage with his colleagues, proud to show off their talents too. He is just so damn likeable. Another particularly special moment was his rendition of 'Tomorrow' from Annie where he shared a heartfelt moment that had many of us awing and wiping away our "I'm not crying, you're crying" tears. He pokes fun at his celebrity friends throughout, including Bill Roache and Dame Judy Dench and mucks in with the cast as if he were a 20-year-old. Sir Ian has charm by the bucketful and even had one young audience member shouting out to John Bishops character, "Please, just take her back!" such is the charisma of this legend.



John Bishop (stand up comedian, presenter, Dr. Who, John Bishop Show) gives you not only everything you'd wish for and expect with his dry observational comedy, jokes, likeability and charm, but he also throws in a thing or ten that you won't be expecting! Following Sir Ian's Shakespeare monologue, Bishop starts reciting "Shall I Compare Thee…" sonnet. He soon silences the few titters from the audience that are anticipating this to be a comedy sketch, and instead wows us all with a sincere and earnest performance. He has some fantastic costumes of his own, particularly after his 'make-over' that, clad in pleather, leaves him with a whole new look and persona! This is not Bishops usual world which he freely admits to himself, but you wouldn't know that for a second because he gets down and dirty with the best of them. It seems panto is his home and his natural rapport with an audience, his skill at holding them in the palm of his hand shines through and helps elevate the show to a whole new level.


Anna-Jane Casey (Cats, Chicago, Mack & Mabel, Cabaret) is showbiz personified! World class singing, acting, dancing, that she blends into any genre needed – including, it seems, a menopausal goose wearing orange crocs! Her natural Northern humour shines through so you're never quite sure if she's saying scripted lines or just cracking jokes as she goes along, which the audience love and is exactly what you want in a panto! She is an unstoppable ball of energy that fizzes around the stage with high kicks, tap dancing, splits, top hats, canes and even a stint in her 24601 prison cell can't restrain her as she breaks free to belt out a show tune. And what a moment this is! Anna-Jane Casey fills the entire stage with "Don't Rain On My Parade" and I for one was in showbiz heaven! The rapturous applause, whoops and whistles that burst out of the audience sum up her performance. We wanted more!
Oscar Conlon-Morrey is Jack Goose, the nincompoop that every panto needs and loves. His charm is so infectious that even the usually reluctant adults join in with vigour and glee. He plays the fool to a tee, allows himself to be the butt of many a joke, but is just as strong at delivering them. His slapstick, farcical performance ensures the audience are in stitches. His timing and execution in the set pieces are brilliant and his commitment to the cake baking scene not only had the audience roaring with laughter, but he shut down the actors into fits of giggles too! He comically plays around with his voice but make no mistake he also knows how to belt out a tune! When he finds his partner in crime with Simbi Akande as Jill, she provides yet another type of character, then ditches that one in favour of "being more Jack." She is so talented it's like she is multi-rolling within her one role, creating such comedic character traits, and hilarious physical comedy by repeatedly falling off a bench. Sharon Ballard as Encanta the good fairy and Karen Mavundukure as Malignia the bad fairy are a brilliant pairing, and relax the audience from the off, joining in with the laughter and rolling with the punches. They both have incredible solos and a duet that has everyone clapping along and boogying in our seats. They are so natural, cool and current that they never patronise the children and still feel relatable to us grown-ups.



Richard Leeming as the bat is so despairing of life that he is a little like Sheldon from the Big Bang Theory and is capable of making the audience corpse with very little effort or words. He plays his part to perfection and had a unique humour all of his own that stood out amongst all the smut and innuendo. Adam Brown as King Of Gooseland is a brilliant diva and knows how to both underplay and over play at just the right moment to evoke fits of giggles. Under the direction of Cal McCrystal, everyone on stage is given their moment to shine. I could honestly write up on all of them but I have already had some lovelies out there say my reviews are too long and too kind?!!?? Every actor has a clear character and not only sings, acts and dances, but provides humour and even operate puppets! Ahh, stuff the length, it's my review and I'll name check if I want to, because they deserve it! Completing this unstoppable cast are Mairi Barclay, Gabriel Fleary, Becca Francis, Shailan Gohil, Genevieve Nicole, and Laura Tyrer!


I could honestly go on and on because there is so much packed in, and the speed of it all is so fast, that you could watch this show again and pick up things you missed. It's the panto equivalent of Hamilton, jam packing as many gags in as is humanly possible. Whether it's the set and costumes designed by Liz Ascroft, the aeroplane balancing act, shouting out "He's behind you" to the ghosts and ghoulies, the comedy, the songs, the free sweets, or the positive and happy energy that washes over the entire theatre, or the big finale where everyone gets to join in, you will be guaranteed to leave feeling so much lighter, joyous and elevated than when you went in. Mother Goose takes everything you love about traditional panto and blends it seamlessly with everything you love about modern panto. The result is a mega panto that leaves you feeling as bonkers and as brilliant as the performance itself. If you love off the cuff, zany fun then go! Seriously, just go, and you'll soon realise that this is a show not to be written about, its one to just experience, leave your troubles at the door, and let this stella cast take you under their goose wings and make you feel happy joy. That's the real golden gift on offer here.


WE SCORE MOTHER GOOSE...


Other events you may like...
Most Popular Shows and Events in London