Saturday Night Fever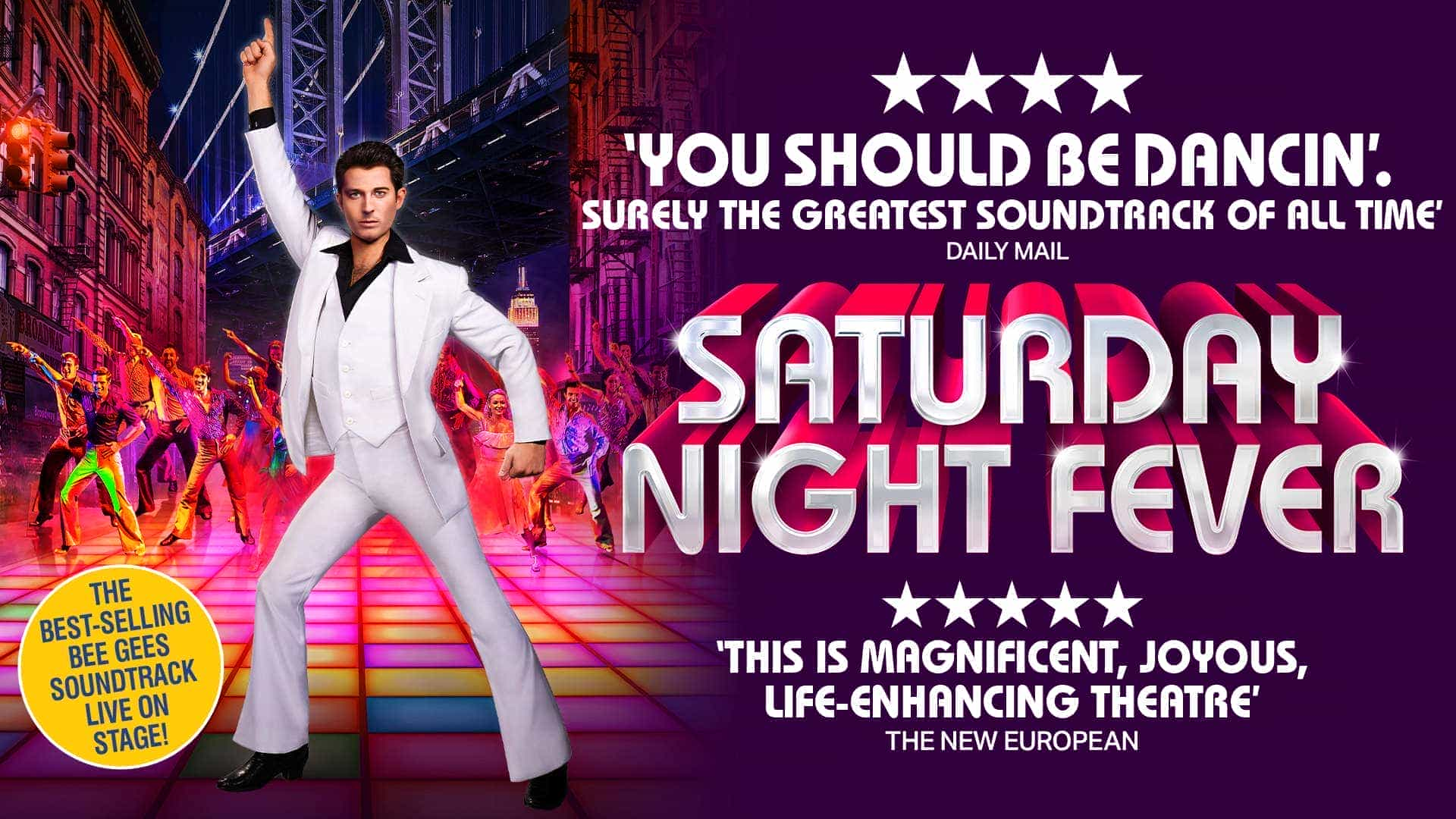 Saturday Night Fever tells the story of Tony Manero, who escapes the harsh realities of working-class Brooklyn life when he embarks on a reckless, yet thrilling road to dancing success.

Saturday Night Fever - spectacularly re-imagined in a big new music and dance extravaganza.

Whilst paying homage to the 1977 John Travolta classic, this new stage version promises more drama, more music and hot new choreography, which is sure to have you dancing in the aisles!
The movie soundtrack remains one of the bestselling of all time, featuring the Bee Gees greatest hits such as Stayin' Alive, How Deep Is Your Love, Night Fever, Tragedy and More Than a Woman as well as 70's favourites Boogies Shoes, Disco Inferno and many more.
*Please Note: This show contains adult themes and strong language.
Saturday Night Fever Tickets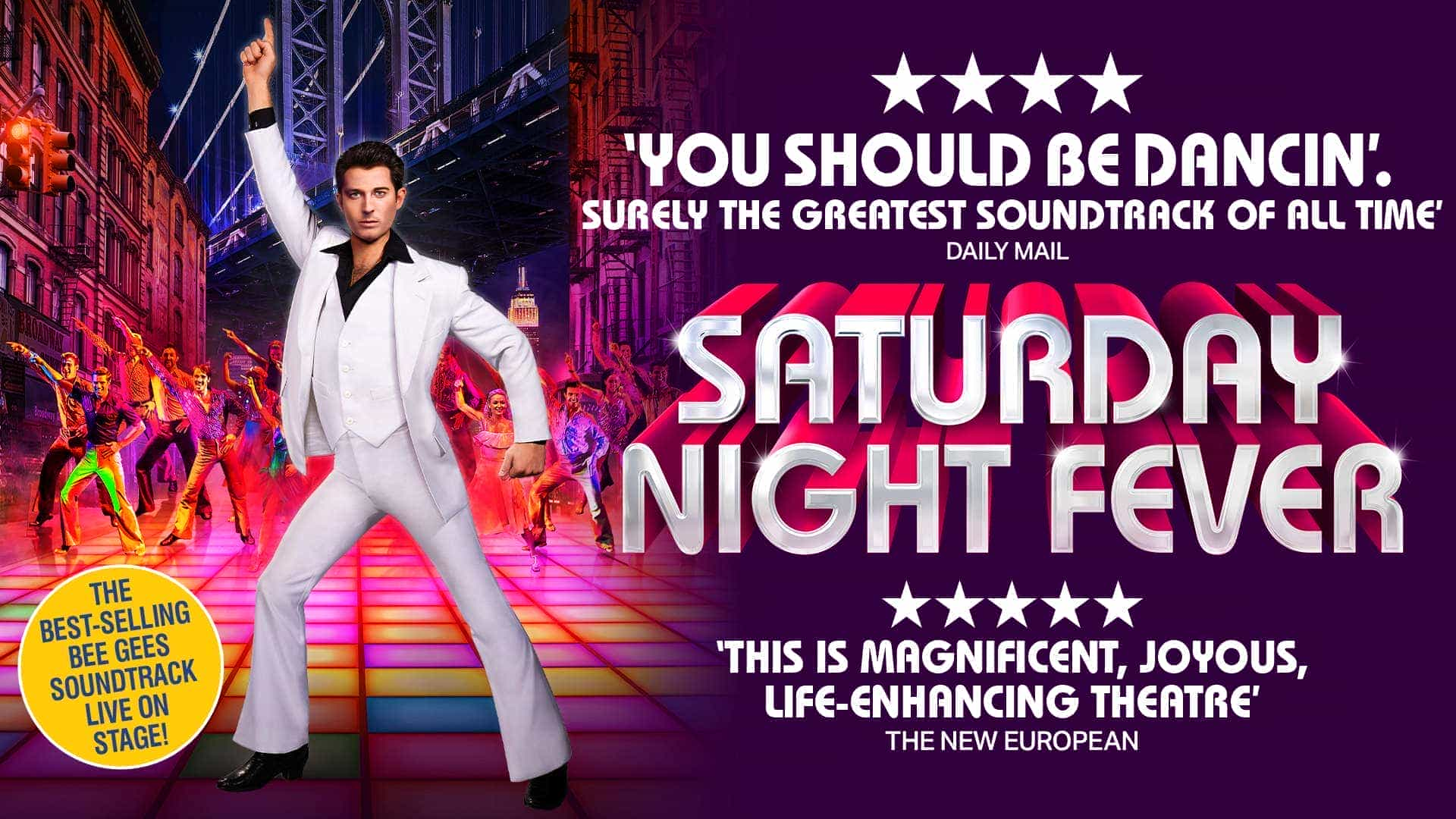 Sorry, there are no tickets for Saturday Night Fever in London available at the moment. This maybe due to one of the following reasons:
- Saturday Night Fever in London tickets are currently not on sale.
- The event has sold out.
- Details have not yet been announced for Saturday Night Fever in London.
- The event may have been cancelled.
- The event has been and gone.
Join our free mailing list for
updates about this event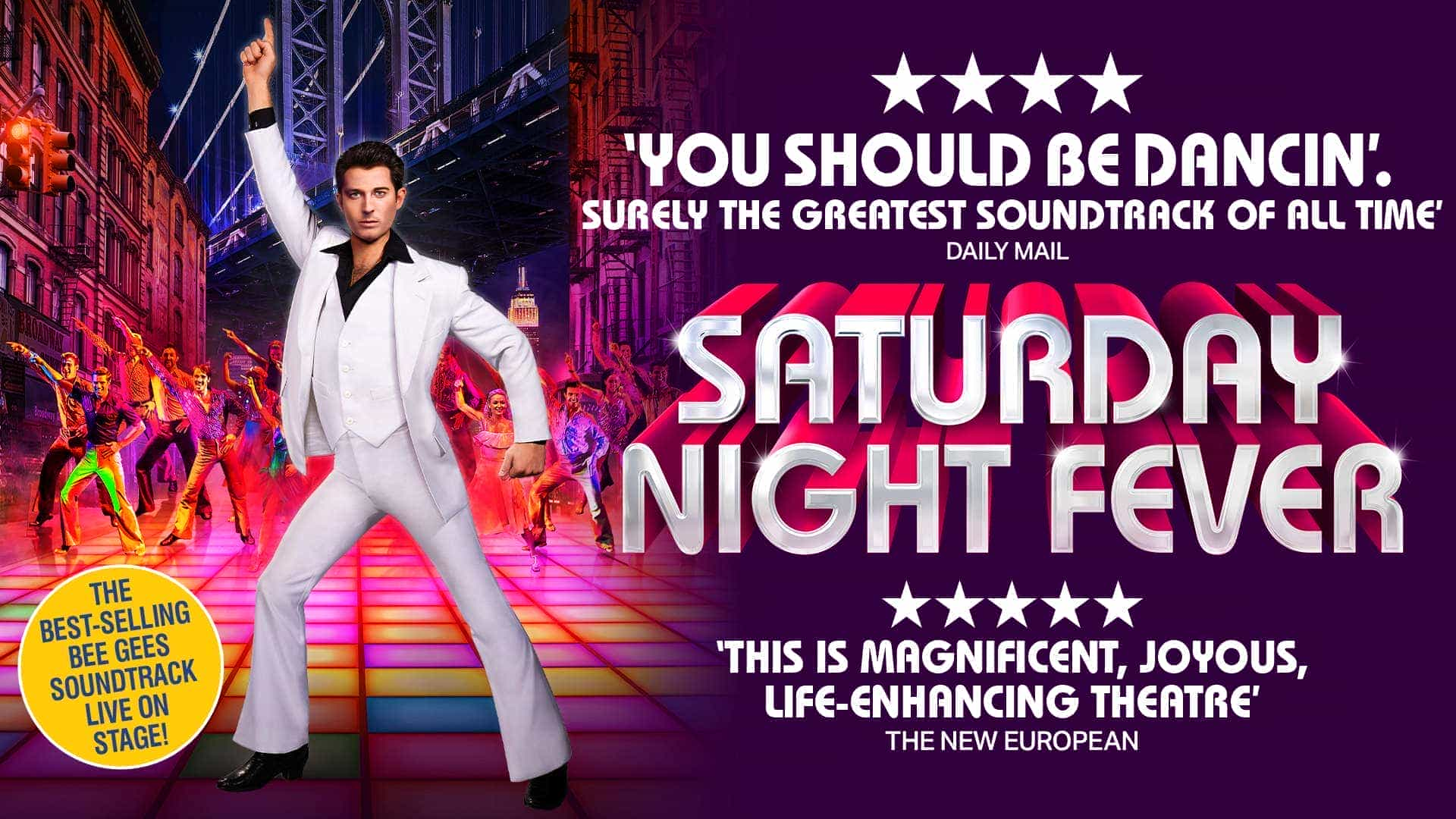 Saturday Night Fever ON TOUR
Our review on Saturday Night Fever
Saturday Night Fever - Palace Theatre, Manchester - Tuesday 27th September 2022 by Karen Ryder
Our Rating
Saturday Night Fever on a Tuesday night was just the tonic needed for that start of week dip we are all prone to feeling. I'm equally invigorated and exhausted from watching this electrifying cast boogie their flares off, and I know that those iconic Bee Gees tunes will be happily bouncing through my mind for the foreseeable. For a show that has delinquent darkness, illuminating light, and a sprinkling of the everyday in between, Saturday Night Fever favours the feel-good factor as the takeaway treat, because the outstanding dancing and legendary music hustle their way into the spotlight and claim the leading roles as their own.
Meet Tony Manero, a young New Yorker who lives for the weekend where he can come alive through his dancing. Trapped in a mundane existence with a family who instead of offering understanding and support, provide a few fists and a blind eye, Tony's true home is at the nightclub. His gang of friends often provide more trouble than he can handle, throwing him further into his rhythmical escape. Tony may be worshipped as King of the dance floor, ensuring he can strut his stuff, get the girls and be admired by all who inhabit clubland, but his private turmoil never truly leaves him. Upon entering a dance competition, his desperation to prove his worth and be told he is good at something in life leads to true friendship, honesty, and ends with a night that turns everything upside down. In a world fuelled by aggression, abuse, gangs, suicide, and drugs, can dance be the answer? Well, if you listen to our very own Manchester brothers Barry, Robin and Maurice, they will happily answer. It's quite simple - you should be dancing, yeah!
Disco fever explodes across the stage through its rainbow lighting, thematic costumes and glitter balls to end all glitter balls. Wow! Situated not only across the stage but through the audience, the entire theatre is dazzled with the ultimate disco vibe and a beauty that made me want to readdress my lighting situation at home! The main staple set is a trio of pieces that represent fire escapes, creating that New York feel, and also cleverly double as everything else you may need. With a projected backdrop moving us from a street to a bridge, and beyond, flat sets that are manoeuvred on stage or slip on from above, the speed at which these changes occur, sometimes for the sake of a few minutes, is pretty impressive to say the least. As the curtain rises to a familiar frozen Saturday Night Fever dance formation, a note rings out, the audience go wild, and the dancing begins. And what dancing it is! It was all anyone in the audience could talk about. This cast is relentless and never seem to tire out. From iconic moves built into ensemble sequences that are repeated or rippled through dance canons, to utterly emotive partner work and solo magic, we are privy to disco, Latin, ballet, contemporary and pure class.
Jack Wilcox (Anything Goes, White Christmas, Joseph) is a beacon of dance as Tony Manero. I think he is literally unstoppable and has mastered the strut to perfection. He takes Tony on a believable journey through both acting and dance and connects with the audience immediately. Oh, and cue lots of whooping when he whips his top and pants off to change into the iconic white suit - which of course is what people were so happy to see! His solo dance to Immortality was so stunning, his partner work so tender yet strong, and he led the disco ensemble moments with exemplary style, it was clear to all that Tony Manero may have been born to dance, but so was Jack Wilcox!
Rebekah Bryant (9-5, The Brits, Carnival Cruises) as the fiery Stephanie Mangano was a beautifully sleek, effortless dancer. She had a gorgeous solo, created an amazing mixture of sass, sexy, and sensitive, as she portrayed a girl who was just trying to make a better life for herself. Bryant made everything look so easy, a true sign of talent and years of dedication. Billie Hardy (Chicago, Bat Out Of Hell, Cilla) played the underdog Annette and she took us from a fun loved up girl who made you giggle, to a broken, beaten shell with amazing acting. In the scene where she took drugs, even when the focus wasn't on her character, she never stopped, and I kept looking over just waiting for her to collapse or pass out it was so real. Faizal Jaye (Bad Girls, Seussical, Made In Dagenham) deserves a mention as DJ Monty for the commitment, energy and party vibes. Most of his part was isolated on top of one of the fire escapes, but he matched the ensemble dancers move for move and just did not stop for breath! Then he sang – epic!! More of the Jaye singing needed for sure! He was amazing.
Harry Goodson-Bevan, Dominic Gore, Liam Morris and James Brice are a strong force as Tony's pals, and their dance numbers, particularly a choreographed fight scene, are powerful, exciting and mesmerising. Each has their own distinctive character, which is great to see, and Goodson-Bevan has a heart-breaking moment with his solo Tragedy, ensuring we all just wanted to give him a hug.
Melody E Jones plays the devout Flo Manero – Tony's mum, Phillip Aiden as Frank – Tony's abusive dad, Marios Nicolaides as Tony's brother Frank Junior, and Emily Bolland as his sister Linda, and together they create great dramatic scenes which capture why Tony ends where he ends. There are some touching scenes between Wilcox and Nicolaides that actually left me wanting more of Frank Jnr's story too.
AJ Jenks, Drew Ferry, and Oliver Thomson as Barry, Maurice, and Robin Gibb loom high above the action and sing the majority of the shows numbers, leaving the cast to dance to with the highest energy, fearless of belting out a breathless note. It allows the songs to be used in numerous ways too, and not just shoehorned in to feed an emotion of a particular character at a poignant moment, meaning they can just be enjoyed in their purest disco form as a soundtrack to swig those hips to. The trio are impeccable and their falsetto harmonies are just so alluring that I really hope Barry Gibb has heard them sing for they emulate the spirit of the Bee Gees with a goosebumpy clarity.
Saturday Night Fever captures the spirit of disco in all its glory, right down to the disco chequered floor reflected in the mirror for all to behold. The dancing is most definitely the star of this show, and given centre stage time and time again, and deservedly so. The nightclub atmosphere created is so contagious that it creates my only dilemma with the production as a whole – that you couldn't jump up on stage and join in the party! The string of hit songs from the Bee Gees provide the perfect playlist and it's a humble reminder not only of just how many songs they recorded, but how many songs they wrote for others which were also chart-topping hits. What a privilege it must be to dance every night to such a phenomenal back catalogue of songs that form such a huge part of people's lives, memories, and hearts. So, unless you have been living under a rock, you will most definitely know the music from Saturday Night Fever and unless your funky bones are broken, you'll be hard pushed to sit still throughout the show. Whether it be a cheeky foot tapping along to the beat, or a subtle shoulder shimmy gathering momentum to the disco inferno, you'll find yourself master of the chair dancing until you can take it no more and your own escape through dance just has to be let loose! Grab those flares, flex those muscles, shake what your mamma gave you, and hustle your way down to The Palace Theatre with the absolute knowledge that no matter what night of the week it is, a little bit of Saturday Night Fever will be waiting for you. And as they say, now – we strut!
WE SCORE SATURDAY NIGHT FEVER – 10/10



Other events you may like...
Most Popular Shows and Events in London